Red in a Sea of Blue
New Young Republicans' Club Strives
From serving as an intern for the State Capitol under Kansas Representative Connie O'brien, to being an assistant for Milton Wolf, the runner-up of the 2014 United States Senate primary, freshman Colton Unden has devoted his life to politics this past year.
Fueled by his passion for politics, Unden formed Free State's first Young Republicans'
Club.
"I noticed that there was a Young Democrats Club, although it wasn't as active as it is today, (and) I thought it would be a good thing to create an oppositional party," Unden said.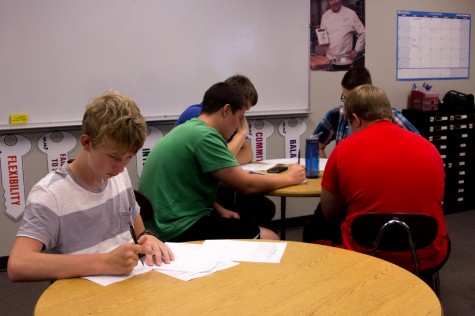 Unden, with the help of special education teacher John Dipman, created an open forum where politically interested students can discuss and debate current events not limited to Republican news.
"Planwise, (we're) more of a political club, not just Republican politics, (all)-around general politics … everything—talking about news, debating," Unden said.
Members of the Young Republicans Club focus on more than expressing their opinions on the U.S. Republican agenda. They aspire to inform the liberal students of Free State of Republican ideals and dismiss Republicans' negative connotation in Lawrence.
"Voting Republican is definitely a minority in this town, and in the school, too, and it's not a bad thing," said junior Brett Carey, Young Republicans Club member. "We don't want to promote the negative vibe the GOP sometimes gets."
Dipman hopes to steer the new political gathering away from such negativity.
"… I think it's important to figure out how you can share your ideas and share your beliefs without offending," Dipman said.
From debriefing current events to debating, meetings are infused with politics. Recently, the group had a debate on gun control, which was open to all students, and they plan to hold similar events in the future.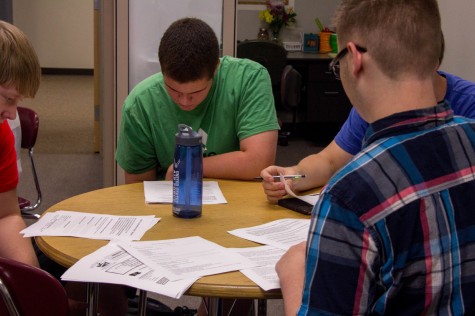 Along with debates, the group plans to become politically involved, whether that be through internship opportunities or support of Republican politicians in the area.
Despite the liberal majority in Lawrence, Unden is not discouraged.
"Lawrence is typically a bit more liberal type town; it's a really nice town, but it typically leans that way," Unden said.
Leave a Comment