Trust the Process
Athletes go through recruitment routine
Every year high school student-athletes are challenged with the task of choosing which school they want to pursue their collegiate athletic career at.
For some, the choice is relatively simple since they may have only received a few offers. For others, the choice can be difficult because they have received offers from many schools.
For junior Noah Butler, who recently transferred to Free State from cross-town rival Lawrence High, the decision making process is already becoming a problem. Nebraska, Creighton, and Wichita State have all shown interest in Butler for basketball. With a growing list of schools beginning to show interest, Butler continues to improve his game.
"I play on the Under Armour circuit and there is a lot of good competition so you just gotta show out," Butler said.
In the offseason, Butler plays in the Amature Athletic Union. The AAU is a program that helps develop athletes who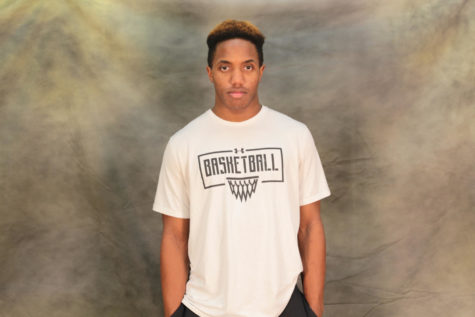 have a strong desire to compete at the collegiate level and beyond. During tournaments, college scouts and coaches are in attendance. For Butler, the AAU is a way for him to get his name publicized.
By the time Butler is ready for his commitment, he will take many aspects into consideration before giving his verbal commitment. Although he still has time before he has to give his set commitment, he continues to play hard to boost his recruitment.
When the Firebird's football season concluded, three star offensive tackle Jalan Robinson remained offerless. However, after a few weeks, the offers began rolling in.
Robinson currently holds football offers from the University of Kansas, Missouri State, Fort Scott Community College, Coffeyville Community College, Garden City Community College and Butler Community College.
Robinson promotes his skill-set on his Twitter account. Twitter gives college coaches a quick and easy way to preview a player and also gives underrated players a higher chance of getting noticed.
Robinson has even had multiple coaches direct message him on Twitter as a way of showing their interest in him.
"Most schools now will shoot you a direct message on Twitter," Robinson said. "Then they'll come to [your high school], talk to you and try to set up a visit," Robinson said.
For Robinson it is not about going to the biggest school that offers him. When considering a school, he thinks about multiple aspects.
"If I build a relationship with the coaches and how much scholarship money they're giving [me] is mostly what separates some schools for me," Robinson said.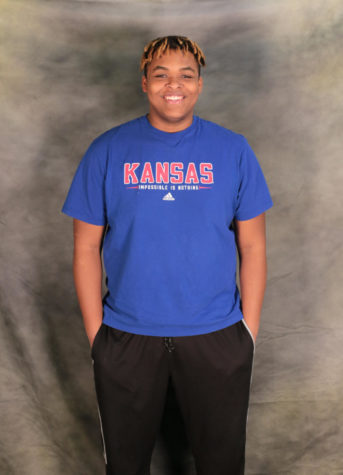 Although Robinson takes certain areas into consideration, when it comes down to the choice between a smaller school and a big school, Robinson already knows what his choice will be.
"I'd rather go to a big school and sacrifice some playing time, and maybe get a couple years to get better," Robinson said.
Robinson has until February 7, the National Signing Day for athletes, to make his final decision on where he will attend. Robinson plans to continue promoting himself via Twitter and keep working on his game to land more offers.
Senior Claire Campbell committed to the University of Kansas (KU) to continue swimming. Although she made the choice early during her senior year, the process was still challenging for the two-time First Team All-State swimmer.
Campbell was left with a tough decision to make after receiving offers from KU, the University of Houston and Boise State University.
When she wasn't being recruited by division one schools, she used some unconventional methods to get attention from college recruiters.
Before the KU-bound swimmer was recruited, she took matters into her own hands by contacting coaches directly and expressing her interest in swimming for them.
"I made an account on College Swimming and filled in all of my times and ACT score my junior year, so that helped to get my name out," Campbell said. "In general I just emailed all the coaches that I had interest in swimming for. I found their emails through the university websites and just emailed them and gave them information about myself."
When it was time for Campbell to make her final decision, KU had what other schools did not. .
"When I was at KU I felt at home with the team and I felt the most comfortable," Campbell said. "KU also had the most opportunities for me to grow as an athlete and as a person. To me, getting a degree from KU would mean more than a degree from the other schools that recruited me."
Campbell will continue to compete for the Firebirds this season and will continue to progress until she joins the Kansas swim and dive program.
Senior basketball standout Garrett Luinstra began receiving attention from schools during his junior season where he averaged just under 20 points per game. The Second Team All-State guard continues to put up impressive numbers, including a 36 point outing against Liberty High School in the season opener.
His high scoring average has even caught the eye of the University of Kansas Head Coach, Bill Self. Luinstra has rejected many offers from division two schools because he wants to play at the highest level. Luinstra has been talking to Coach Self and intends to play for him.
"I've turned down all division two offers, and I've basically told coach Self that I'm walking on at KU next year," Luinstra said.
Before Luinstra was recruited by the highly accoladed Kansas basketball program, he knew ways that he could get his name more well-known.
"I think just playing really well is one thing to do and then also emailing the coaches if you really want to go to a certain place," Luinstra said. "If you get to the state tournament that's where coaches notice you."
Although Luinstra has verbally said he's playing at KU next season, it is unofficial until he signs his national letter of intent.
No matter which sport, the recruitment process is different. The process is long and difficult, but athletes around the nation endure the process to be able to continue playing at the next level.