Female students relate to new student resource officer Shelby Frazier
The school's newest SRO Shelby Frazier provides crucial support to team and student body by providing female perspective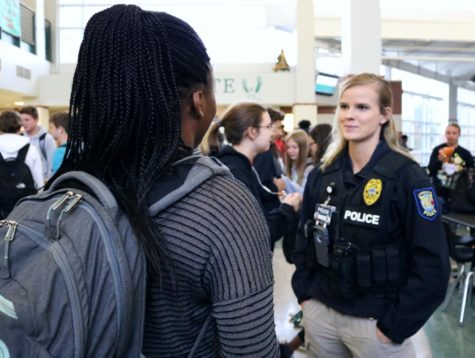 Having been on the police force her entire career, Officer Shelby Frazier has experienced many years of rigorous training and hazardous situations while working on the street. Despite her dedication to her career, Frazier often received less respect from suspects as her male coworkers due to the fact that she is a woman.
"A lot of men on the street feel like they're bigger or tougher or don't have to give me the same respect that they have to give male police officers," Frazier said. "Or if you're on a domestic call, where a husband and wife are fighting, the husband always says 'Of course they sent a girl cop'."
However, since being hired at the school the environment of her job is much different, as she feels she is treated equally among her team despite her gender.
"I love my team," Frazier said. "The security guys are awesome and we all get along really well. They're super funny and I know they always have my back. I've never had any question about whether they support me or not."
Despite being the only woman on the school's security staff, Frazier believes that along with being accepted by her team, she receives the same amount of respect from students as her male counterparts.  
"As far as kids go, I feel like they treat me equally across the board," Frazier said.
Senior Akaya Tate-Locke agrees that the perception of a female officer among the school is overall accepting, but she recognizes that Frazier's gender leaves her susceptible to discrimination from students and coworkers.
"From what I've seen, she is respected," Tate-Locke said. "But I know that not everyone will since she is a female officer. Personally though, I've only seen people be respectful towards her."
Senior Jordan Hauber, however, fears that, because she is female, students treat Frazier with differently than the other male officers.
"I feel like she gets clowned a lot more than Ty did even though he was a fool," Jordan Hauber said. "A lot of people don't take cops seriously anyways, but when they see a woman police officer, they can get off easier or they won't take their job as seriously."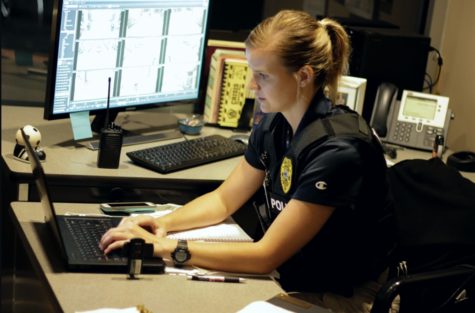 Frazier began working at the school at the beginning of this year. She was hired to replace officer Ty Scheibler when he retired in summer of 2018.
Despite students' concerns, Frazier continues to prove herself everyday by providing crucial  support in preserving the school's safety and well-being.
"She always has a good attitude," security guard Mike Evans said. "She understands her job but she also understands kids."
Along with monitoring the halls, she provides students—especially those who are female—with a resource who they are able to come to with personal issues. She believes that her age and feminine perspective make her more relatable to students than her male coworkers.
"I'm only 24, so I remember fighting with my parents, hormones, dating boys and girls being bitches," Frazier said. "When you [girls] are in here crying, some of the [male officers] are like 'Oh this is girl drama'. Girl drama sucks and it's all consuming, so it's good to have a different perspective."
Tate-Locke feels that Frazier's presence make students more comfortable during school, as well as breaks gender stereotypes about their everyday figures of authority.
"[Having a female officer] exposes them to diversity and opens their minds," Tate-Locke said. "It gets rid of the stereotype that all officers are men, and I think it could help a lot of female students, or students that are just more open to talking to a woman about their issues."
While Frazier's femininity allows her to understand students' perspectives and be compassionate towards those in need, it has never hindered her ability to maintain the school's safety. Her continual drive to succeed in a male-dominated field makes her a strong role model for female students in the school.
Emma Nelson