FEATURE: 15 Years of The Undead
Marching from South Park, up Massachusetts Street and back, the annual Lawrence Zombie Walk trudges through downtown Lawrence for the 15th year. Hosting food vendors, makeup and bloodbath stations, and fun photo opportunities, proceeds for the event go to the Lawrence Humane Society.
The Zombie Walk starts in South Park, with festivities and contests preceding the event for attendees of all ages. Children flock to Aunt Nancy's Face Art, waiting in line to get zombie makeup, while teenagers spent their time in groups with friends, enjoying the music and atmosphere. 
Teen Annika Vermooten attended the Zombie Walk because of her mom, but enjoyed the experience regardless.
"My mom brought me, but I'm genuinely having a good time," Vermooten said.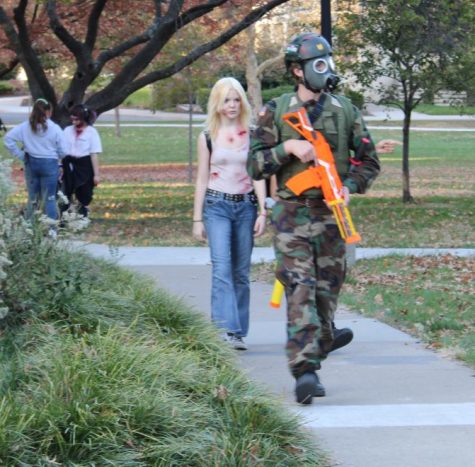 Even adults enjoyed the Zombie Walk, some bringing their kids and going all-out with their costumes.
Zombie mom Jocelyn Oyler enjoyed the opportunity to intermingle with the members of the community.
"I love Lawrence and the community, I love seeing everybody," Oyler said.
Originating in 2007, many teens can't remember a time without the Zombie Walk. Teen attendee Ava Ayala recalls going as a timid young child and jokes about the eerie memories from the experience.
"This one zombie, when I was seven, screamed at me and made me cry so I'm here to get revenge," Ayala recounted.
The event isn't only a gathering at South Park, but a spooky parade around downtown. Many gathered to see the elaborate zombie costumes, ranging from a zombified Cruella de Vil and dalmatian to a cosplay zombie corpse bride. 
Ayala enthusiastically recounted costumes she's seen in the past.
"There's some that go all out," Ayala said. "[A girl] had a baby doll and she would eat out of the head of the baby, and one dressed up as Colonel Sanders and his wife but as zombies." 
Attendees look forward to continuing this undead tradition next year.