FEATURE: NAACP Youth Council is Revived and Helps Promote Equity
NAACP Youth Council Lawrence branch is revived
High school students are ready to take action for equity; therefore, after 30 years, the National Association for the Advancement of Colored People [NAACP] developed a youth council branch in Lawrence again.
After realizing many activism councils were based on discussion, senior president Wendo Kimori decided she needed to take initiative. 
"I wanted to start a youth council to show that there's a place that youth could go and… act on their ideas to advance racial relations," Kimori said.
The youth council is focused on putting ideas and plans into motion instead of talking about their aspirations. 
"I'm tired of talking about how to solve this injustice; I want action," junior Elsie Murragarra said. 
Younger generations in the community are ready to start changing society for the better, and the youth council provides the resources to help young leaders take action.
"We are the future leaders of tomorrow. So who better than us to…create the change," Kimori said.
Anyone of race is welcome to join the youth council as long as they are passionate about making change.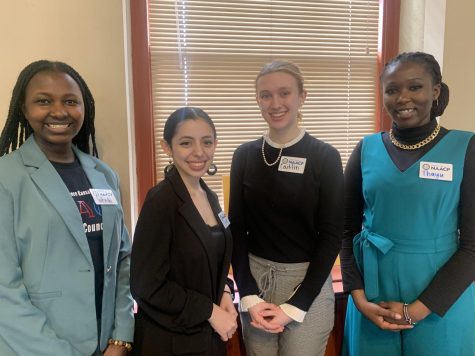 "Everybody should be an ally to whoever is suffering from any form of oppression," sophomore Katilynn Sedich said.
The organization fights for all types of equality and justice, whether they're fighting for the environment, gender equality, or racial justice; they help the cause. Recently, they've been feeding the unhoused population and reading to children at an elementary school.
"Our mission is to provide equity: politically and socially in all aspects of life for communities of color," Murragrra said. 
Although the council has only returned for a short period of time, members hope it'll promote equity and encourage leadership in the community for a long time. 
"I hope that this council will instill hope in the youth in the future leaders of today," Kimori said.
Editors note: The caption was changed due to a mistake in dates.