FEATURE: Students Find Keys To Success at State Piano Festival
11 Free State students get top score at KSHSAA State Piano Festival
After months of preparation, students stepped onto the stage to perform their well-rehearsed pieces. On Feb. 18, 13 students went to the KSHSAA State Piano Festival and showcased their talents in front of judges. These students consisted of Connor Brown, Angela Chen, Amaya Gab, Havea Hafoka, Casey Kong, Julie Kong, Jake Loos, John Platkowski, Cooper Stone, Juliana Wamelink, Lois Xie, Yejun Yun and JJ Zheng. Of these 13 students, 11 received "ones", the top rating.
The KSHSAA State Piano Festival is a contest where each individual plays a piano piece in front of judges before being scored on a one to five scale. Students spent months preparing for regionals before they could qualify for state and had to receive a "one" rating at regionals.
"There's a lot of working on my own and practicing and then taking that to my teacher, and then she would help [me] improve," Loos said. "We played on a lot of different pianos to get comfortable with it."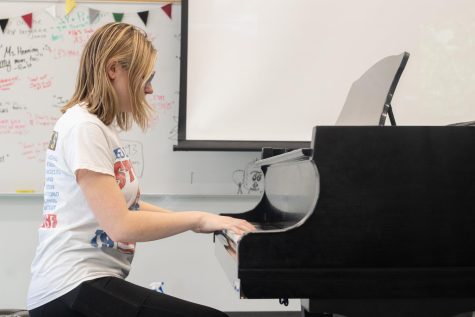 Students enhanced their pieces for around seven to 14 hours a week, with about an average of an hour a day, for three to six months before the contest. While doing that, they would also meet with a private teacher once a week to work on their piece's technicality. This process was stressful, but all the students got through it. 
"I sort of focused on the excitement of being able to participate and then do well, rather than focusing on the pressure of having to do my best," Kong said.