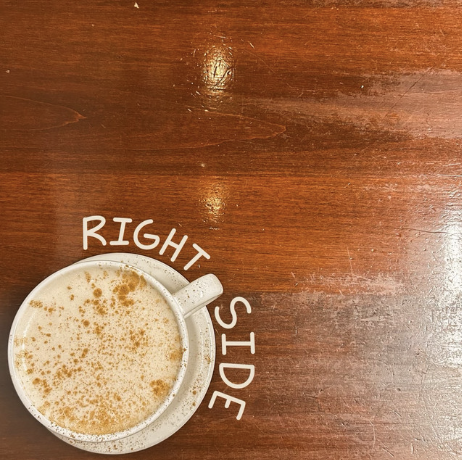 High school songwriters often feel they are able to add components that many other professionals can't speak on. Not only do their lyrics defer from those at a professional standpoint, but it also incorporates their student life.
Taking advantage of a creative outburst, senior Nataile Riley and senior Ayden Tindall quickly partnered up to create their song "Right Side", a seasonal groove made to appreciate the little things in life.
"We were in ceramics and I was playing one of the songs that I made. I asked [Natalie] if she wanted to put a melody on it and she started singing in class," senior Ayden Tindall said.
While Tindall messed around on the guitar, Riley played with the vocal part. Even as simple as rolling down the car windows, Riley hopes all students are able to connect to her lyrics.
"When words match the music it shows a lot more emotion, because you can ultimately relate to a song even if you didn't write it," Riley said.
Riley said she believes the beauty of music is being able to accentuate lyrics by pairing it with a rhythm and chord. And, student songwriters find that expressing complex emotions through their music can help recognize their own unique touch to share with the industry.
Another student songwriter, sophomore Pryce Brinkerhoff, released 19 songs in the past two years. Brinkerhoff describes his music to be mostly folk-styled, but he has recently focused on the poetic symbolism behind each song.
"I hope that listeners can get a better understanding of me as a person and me as a songwriter, but also come to more embrace my style of music," Brinkerhoff said.
While maintaining a compositional contrast to isolate the student songwriter, they have to manage a homework workload that many professionals don't deal with. In response to stressful school days, student songwriters find music to be a helpful way to decompress, which highlights how talented the student body really is.
"Though I find it hard to balance my regular high school life, as a district in general, we have really passionate high schoolers that are capable of doing this," Riley said.
In past years, these musicians admired talented students who released their own music. But now grown into their role models, they hope to persuade any students interested in following a similar path.
"It's never too late to start and never too late to put something out there," Tindall said.