Yoga Girl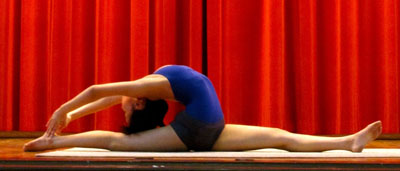 Crescent lunge, bird of paradise, flying crow, reverse warrior. These phrases that may sound strange to some people, are familiar phrases to others.
While students attend Yoga Club just for fun on Wednesday afternoons, there are other students who compete in competitions for yoga.
Sophomore Katherine Marshall-Kramer has been doing yoga for the past five years.
"It's a workout, so it's good for you physically," Marshall-Kramer said. "It makes you more disciplined."
At the beginning of March, Marshall-Kramer had the opportunity to go to the National Competition for yoga after placing at her regional competition. Each person is graded based on their form and how they present themselves.
"You have a routine of poses," Marshall-Kramer said. "They judge you the way they would judge gymnastics."
When each person is judged, there are six different yoga poses, or Asanas, that are judged. Four of those are done by every person, and the other two are up to the person to choose from.
Every posture is judged on a scale of 1-10. The maximum number of points possible during a competition is 70: up to ten points for each of the six poses, and a possible ten points for how each person presents themselves to the judges.
Marshall-Kramer placed first at the National Competition, so she will be headed to the International Competition in June.