Review: Mass. St. Fish House
Walking into The Fish House, I thought it would be one of those fancy places where a high school student couldn't afford anything on the menu. Noticing the fancy lighting, fish bar and jazz playing in the restaurant, I started worrying that maybe I did not bring enough money. I sat down before our polite waitress brought us the menu. To my surprise, there were some affordable items on the menu. However, the majority of the items were not for a teenager's wallet. The restaurant was dimly lit and the music was playing at just the right volume so you could not hear the conversation of the people next to you but could hear the people with you.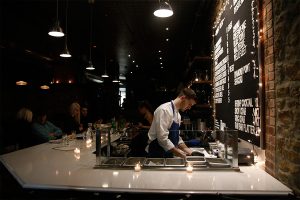 A little while later, the manager of The Fish House politely informed us of their highly experienced staff and how they managed to keep the fish fresh despite the restaurant being in the landlocked state of Kansas. The fish are kept alive until the time they are served. The food that they give you is entirely fresh. He also explained that he chose Lawrence of all places because there isn't much competition.The Fish House is the only fish bar in the entire state.
Our food arrived a moment later. I discovered that the restaurant serves food in dense quantities. I ordered the Chunu Oyster. It was pretty good but was definitely an acquired taste and not as pleasing for my taste buds. It was a salty, fishy raw meat placed beside four different sauces in a bowl of ice. The sauces did not exactly help and made the oysters more slimy. While I was a tad bit skeptical of my meal, my friend, who ordered The Wild Isle Salmon, said it was the richest salmon that he had ever eaten. The fish and chips were a classic and tasted way better than the oysters.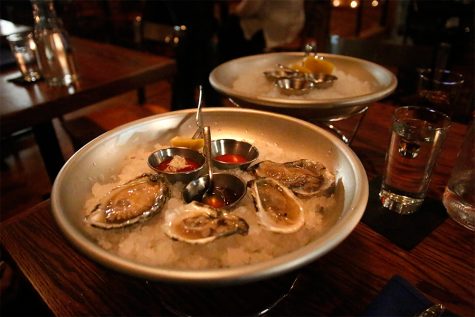 As I left The Fish House, I had an overall feeling of satisfaction because of the great staff and the plentiful food. But I did not see myself coming back just to hang out with a group of people. I would rather come to the Fish House for a formal meeting or fancy date.