FEATURE: Lawrence Schools Held Annual District Art Show at Lawrence Art Center
Lawrence schools displays student art at annual District Art Show on April 28
Art teachers from across USD 497 curated the best works from their students to be displayed at the annual District Art Show on April 28 at the Lawrence Art Center. 
When the art teachers began accumulating art for the event months prior, they stated they were trying to collect as much of a variety of Lawrence talent as possible. 
Free State's own art teacher, Rachel Downs, invited over 50 students to display their art and ceramic teacher, Bryan Lloyd, was asked to advertise the event in every class to find students interested. 
Downs stated the collective goal amongst the teachers was to fill the exhibit with as much student work as possible.
"It was such a wide range of talent . . . so many versions of stuff and that was really special to see such a wide array of talent in Lawrence," freshman Mimi Wood said.
According to Wood, many people attended the exhibit, especially on the opening night. She went on to say there were many people who went to support loved ones or to experience the works for themselves. Lloyd stated he was glad so many people went out of their way to attend.
"It's really fun to see everyone come out and come together and look at the artwork," Lloyd said.
Student artists appreciated the opportunity to share their work with the community. Junior Natalie Riley said she thought it was a great first time experience of having her work on display because of the kind and engaged crowd.
"I was really excited about it because it's like the first time that my work was shown in an art show and it did not disappoint," Riley said.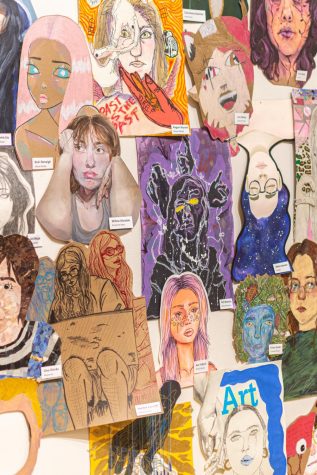 The art teachers wanted to create a unique experience for guests and students. Downs said she wanted to do this by organizing her display differently than she did in previous years. She commissioned artists from all classes and grades to make self portraits of themselves. 
Lloyd stated that he and the other art teachers wanted to give their students a taste of what the real art world is like.
"It gives artists an opportunity they wouldn't normally have to be on those big gallery walls and see the work under the lights," Downs said. "It's a pretty magical experience to have your work in galleries."