Jacob Hood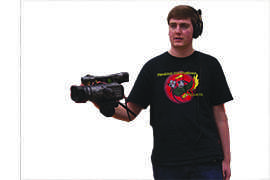 As a cartoonist, Jacob Hood hopes that his artwork helps Free State students find humor in the often dull days of high school.
"… I think that if I can give the school something that is carefree and happy it kind of lightens people's days," he said. "Not that I'm calling myself the savior of the school, but you know if it does … just kind of take them out of their high school life [to] just laugh for a second and then go back to it, that's kind of a goal of mine."
Hood started drawing at a very early age and has honed his skills ever since.
"When I was like maybe two or three-ish, I entered this competition for little kids to draw a Jayhawk," he said, "and I won, and so that's kind of like the first example of what I remember drawing. So I guess you could say [I've been drawing] as far as I can remember, literally."
In addition to drawing comic strips for the Free Press, he also has created animated films. While the comics he draws for the newspaper take about an hour to create, his newest film took about two and a half months.
Hood's recent film, Colors, is about what it would be like if every color was a different "creature". However, it is not just a whimsical story of how they would paint the Earth; it also has a deeper meaning.
"… It kind of deals with … just how if you overcome your differences, you can create new things, and if you kind of get over yourself, you can discover more," he said.
Towards the end of the film, Blue and Yellow accidentally end up making Green which again symbolizes something much bigger than just a mixing of colors.
"… It just has to do with letting go of your own personal arrogance and just accepting other people for who they are," he said.
His film won "Best Animation" and "Best in Show" at Lawrence High's Focus Film Festival. Hood was ecstatic when he received the awards.
"It's kind of a blur because I was so nervous," he said. "They mentioned something … when they were describing the story; they said that it didn't have a weak moment, and then they said that again right before they announced the grand prize, and so my heart started racing because it's like, 'Wait a minute, they said that about mine earlier!' It was pretty crazy."
Hood claims that he creates art because it is a way to express himself.
"I would say [I draw because] it's just the expression of just being able to kind of give life to your imagination in a way," he said. "That sounds really deep, but that's how I describe it."
He also believes that he can highlight his humorous aspects through his comics.
"… I have a pretty prominent sense of humor," he said, "so cartooning is a way to both let out my sense of humor and my creativity."
Being able to draw is primarily natural for Hood, but he does draw inspiration from one person.
"I've always kind of felt the urge to draw and be creative," he said. "There are some people who I would say are inspirational to me … I'm a very big fan of Walt Disney, but other than that I'd say [drawing] just kind of comes naturally."
For individuals wanting to pursue an artistic life, Hood has some advice.
"I would just say don't think too much about it just kind of do what comes naturally," he said, "because I've actually read a few things like how to draw well or how to do whatever, and honestly if I let myself just do what I want to do it comes out a lot better, it comes out more naturally. So just kind of do your own thing is what my advice is."