Students explore college credit opportunities
The 2015-16 school year marks many changes in the USD 497 school district. The new learning programs to be offered include the College and Career Center and classes for college credit offered through KU. Additionally, the long-standing Johnson County Community College Career Pathways program will continue to offer high school graduates college credit at JCCC for specific high school courses. While different, these three programs strive to provide broader college and career options for high school students in the district.
COLLEGE AND CAREER CENTER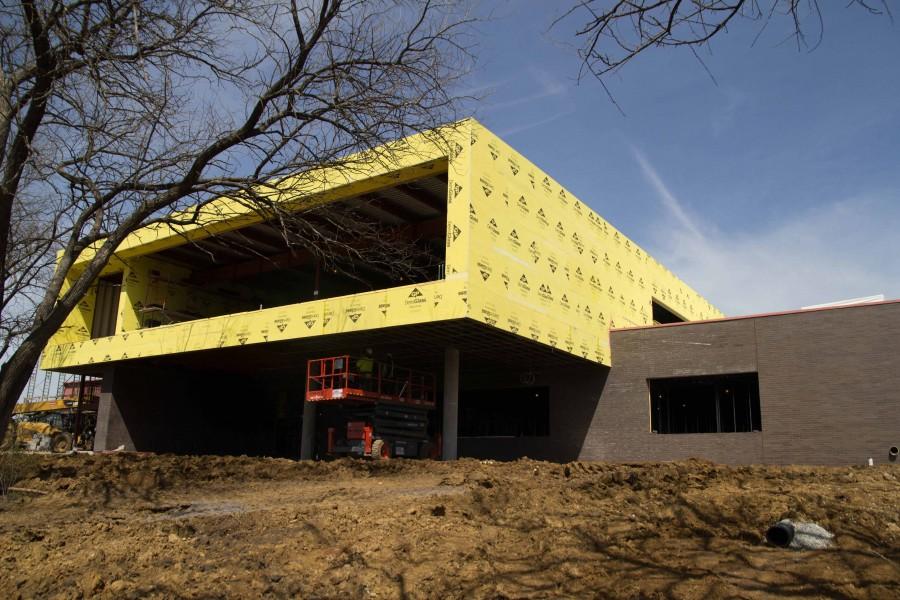 The sounds of nails being hammered and metal being sawed echo around the framework of the CCC as the August construction deadline looms nearer.

Over the clanking, Career and Technical Education Director Patrick Kelly explains the mission of the CCC, which will open to nearly 200 Lawrence juniors and seniors next year.

"We wanted to expand opportunities for students in a number of different curriculum areas," Kelly said.

Kelly stated the anticipated benefits of the center include learning in desired content areas, building relationships with real businesses and taking college courses for which students can earn credit.

"We have really good AP courses at our high schools, but our students also said they wanted to take what they call a 'real college course,'" Kelly said. "Working with business and industry—having a project that they've worked on—can differentiate you from other students when it comes to college applications."

Junior Sean Jesse, who will take several classes at the CCC, plans to use the center's courses to help determine his future, as well as enjoy a new understanding of multiple topics.

"I'm hoping to gain experience in the subjects and … gain some college credit," Jesse said. "I'm using this to explore my options."

Although the center provides definite college experiences, college credit is not a given.

"It's hard to predict which credit will work and which won't," Kelly said. "But I do think that if you are planning to go to college … and you've taken some courses—though I can't guarantee they transfer—clearly, you were doing college work."

Junior Rose Arachtingi believes that in addition to the center's credit benefits, the increase in options will be a positive change.

"Free State hasn't had a lot of good opportunities for career and technology-based classes," Arachtingi said. "I think it will open up a lot of new opportunities for kids to learn about things that they haven't been able to before."

The classes being offered at the center were chosen in a unique way. Community involvement and feedback has been a big part of the project from the beginning.

"

I think it will open up a lot of new opportunities for kids to learn about things that they haven't been able to before"

— Junior Rose Arachtingi

Arachtingi had a say in the courses at the center through her participation in Robotics Club. The club has already seen results from working with Kelly, including Robotics classes at the CCC, as well as new sponsors and more publicity for the team.

Kelly mentioned while he sees many benefits, the center may have its tradeoffs. To him, one of the biggest downsides is the time commitment that must be made in order to fit the desired classes into a student's schedule. In order for students to take any class at the center, they must dedicate three hours of their day to the class, including travel time. Students may choose to go on a school bus or drive their own cars.

While there has been general support for the center, some concerns have been raised that because of the schedule restrictions, the CCC will decrease enrollment in the arts at Free State.

Although orchestra director Judy Erpelding hasn't seen a huge change in enrollment, she predicts the center will take its toll on future numbers. However, her attitude regarding the CCC remains optimistic.

"I guess the one thing that I worry about is the opportunity it takes away from students as far as performing arts goes because it's not like they're going to have an abundance of opportunities after high school," Erpelding said. "I'm concerned, but at the same time I also see that it could be a wonderful thing for some kids who aren't involved in fine arts or kids who are involved in fine arts and find a way to balance them both."

However, even if students have time to spare, Kelly says that the center may not fit everyone's learning style.

"There's a different way of teaching and learning out here," Kelly said. "It's not for everyone, but for students who are really looking for a deep relationship with business and industry, or who are looking to try a college course, taught by college faculty."

While some students may like the current set-up, others, like juniors Chris Porter and Brianna Burenheide, believe that the real-world format will provide valuable experience for their futures.

"I think it looks good on a resume that you took a college class," Burenheide said. "I want to go into the medical field, so that'll be nice to have."

"

I think it looks good on a resume that you took a college class"

— Junior Brianna Burenheide

,"

Although the enrollment totals almost 200 in its first year, school board vice president Vanessa Sanburn noted there were risks involved in creating a program of this nature.

"I do think it's a bit of a risk to take, because if there isn't student interest, then we have a center that isn't going to be utilized," Sanburn said. "But I don't think that will be a problem because I think a lot of students are hungry for these kinds of hands-on opportunities and experiences. Hopefully, it will be well-used."

CAREER PATHWAYS PROGRAM

Senior Jake Keary plans on attending Johnson County Community College this fall, where he will study athletic training. Keary could have earned credit hours toward his college education during his years at Free State, but he was unaware of this before enrolling at JCCC.

The Career Pathways program enables future JCCC students like Keary to gain credit for classes they took in high school, and Keary said he would have taken advantage of the program had he known about it.

"I would have, to make college a little bit easier, so you don't have to take that extra class," Keary said.

Senior Eli Schneck will attend JCCC with Keary and had heard of the program. However, his exposure to this option is recent, and he wishes he would have known about it earlier in high school.

"I just feel like if some of these were promoted a lot more, maybe when you're enrolling in the classes … I would be more inclined to take some of these classes," Schneck said.

Career Pathways program director at JCCC Ginny Naglic explained that students enrolled in career and technical education classes such as journalism, accounting, business, photography, graphic design and health could potentially earn college credit.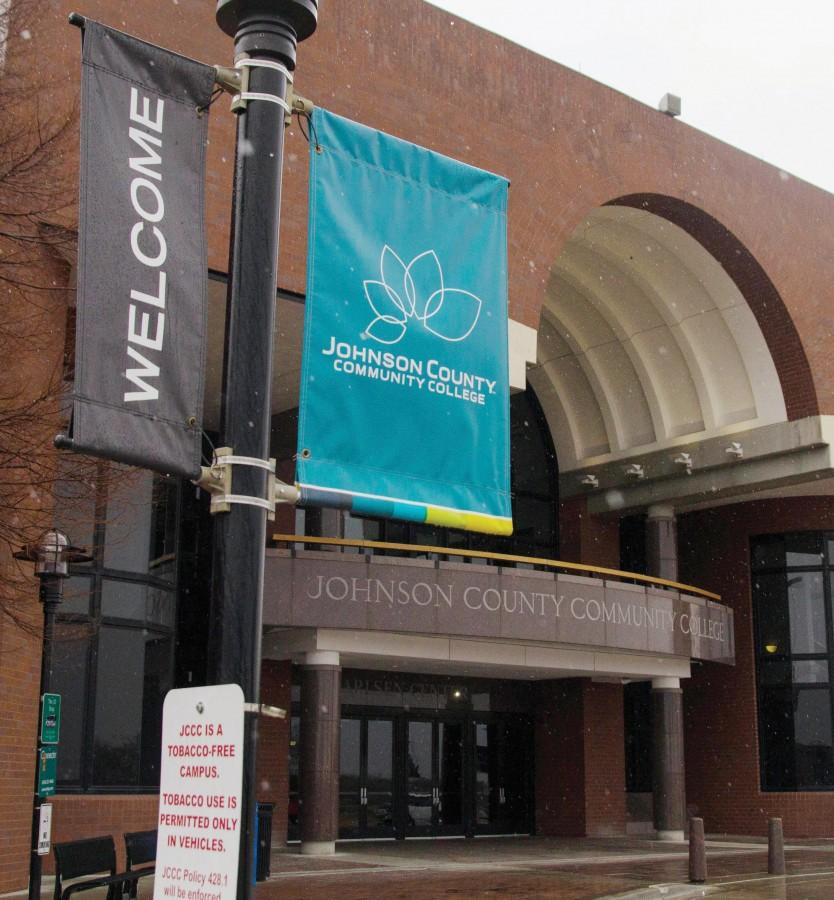 "If you get an A or a B in those classes at your high school, then we give the equivalent of the JCCC college class for free," Naglic said.
Naglic said once a student has enrolled, the program lets the student know what credits they have earned. However, if a student wishes to transfer from JCCC to a different college, the awarded credits may not be upheld.
"You'd want to check with whatever college you're going to go to after you transfer to see if those classes transfer to that school or not," Naglic said. "That's not up to us."
Kelly, who also directs the Career Pathways program for both Free State and Lawrence High Schools, explained that the school district has connections with many colleges across Kansas.
"Our purpose of these is that students have a connection, or a what we call a bridge, from their high school courses to their college courses, so that … you can ease into that turn a little better," Kelly said.
Counselor Ken Hile stated if a potential JCCC student knows about the Career Pathways program, it is a good opportunity to earn credit before graduating.
"It's almost like getting a discount," Hile said.
However, Hile added that credit received through the program appears on the a college transcript as a pass only and does not factor into the college GPA. Hile said this may not present a problem for all students, but it may concern students worried about their GPA.
Additionally, Hile noted some areas of study require multiple high school classes in order to earn credit, and whether or not the credit is awarded is up to JCCC officials.
According to Naglic, career programs, such as the one offered through JCCC, are a unique commodity.
"The fact that you can explore in high school and then those classes are eligible for college credit is something that's pretty rare across the country," Naglic said. "It's a really great way … to explore different careers and find what you like and what you don't like."
COLLEGE CLASSES THROUGH KU
At the beginning of next school year, junior Cali Byrn will not take one of the senior English classes that have been available in the past. Instead, along with around 30 other students currently enrolled, Byrn will try a new option: English 101.
The semester-long class is offered through KU, but taught by a Free State teacher. The course focuses on writing and composition.
Byrn's goal was to complete a semester of college English before actually graduating high school, but she currently knows little about the class.
"I just signed up for it," Byrn said.
The other new class offered is Math 101, a year-long class.
"They're the same number of credits, even though they're differing lengths, and they're the same cost, even though they're differing lengths," counselor Joel Frederick said.
Although junior Lexie Freeman has limited information about Math 101 and English 101, she decided to enroll in both.
"I just thought it was easier and not as expensive in high school, so why not do it?" Freeman said.
"
I just thought it was easier and not as expensive in high school, so why not do it?"
— Junior Lexie Freeman
Math 101 covers college algebra. Around 15 students are currently enrolled, including junior Ethan Donley. While Donley knows this will be a college-level class, he thinks the difficulty will be worth it.
"From my understanding, it helps get rid of a prerequisite that you need for college, so it helps with that whole process," Donley said.
Participating students will receive one credit for the class upon completion. Each class costs $300, about one-third of the price of the same course at KU.
Frederick said while the classes are a great way for students to automatically earn credit toward their future education, some may consider the price expensive.
Additionally, some schools allow students to either skip a class or get credit for it if they do well on standardized tests like the ACT or SAT. If a student takes English 101 or Math 101 in high school and gets scores that enable them to take a higher-level class instead, the credit earned in high school does not count.
"If you've taken the 101 class here and you didn't have to, it's kind of frustrating," Frederick said.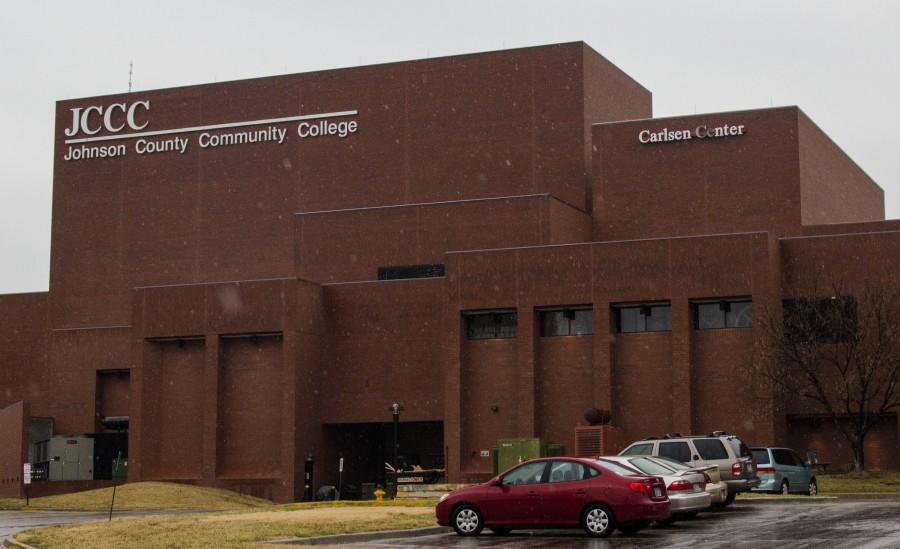 Freeman feels that in addition to the subject matter, the class itself will have a different environment and ultimately be worth her time.
"I feel like the atmosphere is going to be different, and there's going to be more of a connection one on one with the teacher and the students, versus a bigger classroom setting," Freeman said.
CONCLUSION:
The three programs are not all new, nor do they all provide the same benefits for students. While the CCC and the KU-backed classes are in their inaugural year and aim to provide more diverse chances to learn for high school students, the Career Pathways program has existed for years and gives credits to recent graduates who plan to attend JCCC. However, all three share a common goal: to expand opportunities and increase Lawrence students' possibilities to be successful.
"I think it's a great way to be exposed to the opportunity to be in college while still in high school," counselor Tina Mitchell said. "So, it's just opening their eyes to what they have to look forward to."