Horizon Award Presented to Rachel Downs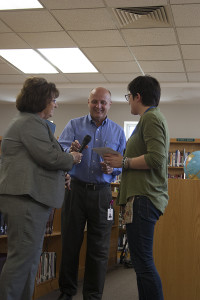 After school on Tuesday, Sept. 3, Free State staff members sat at tables in the library, puzzled as to why a brief, general email from principal Ed West requested their attendance. Until the meeting began, the staff was not aware that someone among them was about to receive the Kansas Cable Telecommunications Horizon Award.
At 3:25 p.m., West commanded the attention of confused educators in the room and gave the mic to members of the Kansas State Department of Education and Truity Credit Union.
"Mr. West, your principal, tells me that this teacher is a natural in the classroom, generally concerned for students, passionate about her content," said Dr. Rick Doll, a presenter of the award. "[She possesses] the skills to merge those two traits together to develop outstanding results with the kids."
The Horizon Award, as described on the Kansas State Department of Education website, is presented "to recognize exemplary first-year teachers who perform in a way that distinguishes them as outstanding." In Lawrence's Congressional District, four Horizon awards are given to secondary educators each year. This year, art teacher Rachel Downs was one of them.
Downs works in Free State's Fine Arts Department teaching drawing and graphic design classes. She believes that not only should she encourage her students to learn, but she should also learn from her students.
"I think what I do everyday is just fulfilling of what I need to do to be a human being,"Downs said during her acceptance speech. "I need to share, I need to be shared with [and] I need to experience people."
After she accepted the award, she shed a few tears while running into her parents' arms.
Downs says she was born to teach, and she tries to help her students understand ideas and have "ah-ha" moments.
"When you're with a student and you realize that all of a sudden they get it, you feel validated in something," Downs said.