School board hosts LGBTQ+ panel, shares plan of action
LGBTQ+ students in the Lawrence public schools deal with ignorance concerning their sexualities and preferred pronouns.
On Oct. 18, nine members of the Lawrence public schools LGBTQ+ community sat down in front of a room full of district administrators and told them their stories. Audience members, including Free State principal Myron Graber, asked questions while the panel responded with ideas and suggestions for improving the way schools approach students' requests.
"Just make us feel like we are normal, because right now, we really don't," sophomore Etana Parks, a transgender panel member who attends Lawrence High School said. "Right now we feel like the odd ones out and really, no, we shouldn't have to feel that way."
Administrators asked questions on how to incorporate LGBTQ+ topics into the already existing curriculum. For instance, some homosexual and transgender students report feeling underrepresented in health classes where safe sex is only taught to straight couples.
"We sit and write notes down," Parks said. "But we know that it will never apply to us."
Panelists suggested to weave LGBTQ+ history into the current history curriculum, as opposed to having it mentioned as a footnote in the domestic violence or civil rights sections.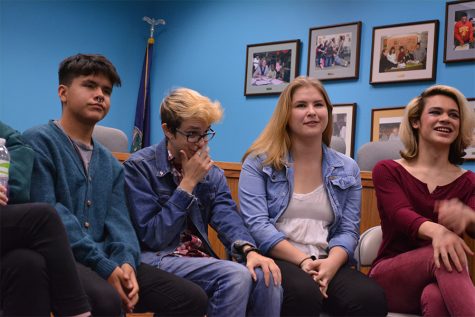 Faculty panel members encouraged administrators to ask their employees to put their personal feelings aside when it comes to helping a student, including LHS assistant choir director and panel member Randy Fry.
"I completely understand that every single person has the right to their religion," Fry said. "But as [educators] it is our job to make sure all 1604 students at Lawrence High School feel like they have a safe spot. And it may seem a very trivial matter to me, but it could be a matter of life or death for a ninth grader."
Alongside Fry, vice principal of Lawrence Virtual School and panel member Monte Westfall said working for the district allows him to embrace his identity while following his passion.
"As a gay educator, this district has been an absolute professional blessing to me," Westfall said. "To be able to just lead my life while also just doing what I love is such a gift."
The district has gone further to support the community than districts he has worked for in the past have Westfall said.
"USD 497 is the fifth school district I have worked for since graduating college, and we are by far ahead of the curve with regard to LGBTQ+ issues," Westfall said. "We should be proud of the work that has been done and the work that will continue to be tackled."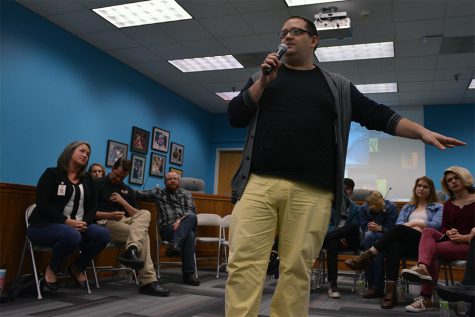 Panel organizer and LHS Special Education director Lindsay Buck was excited by the opportunity to raise awareness for the district's LGBTQ+ community.
"I'm very passionate about LGBTQ+ rights and social justice for marginalized populations, so organizing things like this energizes me," Buck said. "I love the part of my job that includes doing things like this."
Buck is also a member of the district's LGBTQ+ Task Force which was organized last year.
The Task Force consisted of district administrators and directors, teachers, GSA sponsors, community members and parents of LGBTQ+ students. The mission of the Task Force was to spend a year collecting information from students and parents about ways the district could improve the educational experience for LGBTQ+ students according to Buck.
After a year of collecting information, Buck said the force met with the school board and created a list of objectives to help improve the lives of students across the district.
"The panel was a direct result of the board setting [a] goal again this year," Buck said.
Since the panels audience consisted of district and school administrators, it gave student panel members a chance to share their stories with people who oversee their communities.
"The panel gave students a chance to share their stories and challenges with the administration," Buck said. "This panel [also] gave the administrators in the audience a broad range of perspectives."
Because of the information collected and planning done by the LGBTQ+ Task Force, the district can now focus on taking action, Buck explained. District superintendent Kyle Hayden attended the panel and is working with the task force to institute solutions.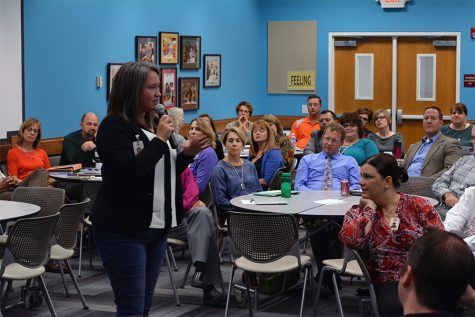 "We're really getting more into nuts and bolts now," Hayden said. "It's not just a big theory like 'here's the big ideas', it's 'okay, how do we practically do things that are going to be visible and make a difference?'"
An administrative planning committee has been meeting throughout the year to discuss additions to district facilities to accommodate students who feel marginalized, Hayden stated. These changes include gender-neutral bathrooms, redesigned locker rooms and changes to professional training. Hayden said the district's support of LGBTQ+ students would not be possible without Lawrence's progressive community.
"Whether it's from a national, regional or local perspective…there's much more of a spotlight shown on [LGBT+ issues]," Hayden said. "Lawrence has a more progressive community…that allows us to push [certain issues] to the forefront that maybe some schools or school districts cannot."
Free State student panelists are optimistic about the effects of the panel. Senior and panel member Aubin Murphy was glad for the chance to speak about community issues directly to district officials.
"It was a great opportunity to be face to face with such a wide variety of influential people across the district," Murphy said. "Hopefully they heard a lot of the concerns expressed, and we'll see some progress."
If any student has a district wide suggestion or question regarding LGBTQ+ issues, Counselor Kenneth Hile advised speaking to their specific student counselor or principal Myron Graber.
Leave a Comment