Drew Finnelly: the man behind @LawrenceKS_PD
Just because Lawrence Police Department's Drew Finnelly holds the title "Public Relations Officer" does not discredit the fact that he's a cop. He spent the first five years of his career on patrol, still holsters a Glock and dons the uniform, most of the time.
On July 8, Finnelly showed up to work in casual attire and rode shotgun with a fellow officer. It was the day of the "#LKPDTweetalong." While his driver would be managing disgruntled bar patrons, Finnelly's mission was to somehow make a show out of it. Fostering a Twitter following of more than 35,000 users strong, Finnelly knows how to keep his audience entertained as a one man show.
Finnelly started on Twitter with his personal account in 2009 and was unimpressed by what law enforcement accounts were tweeting at the time.
"It was really boring stale stuff like press releases and commanding people to do stuff," Finnelly said. "[For example], 'Don't break the law!' It was really boring stuff."
Finnelly found inspiration for the LPD account's personality during a neck and neck Royals playoff game in 2014, when his friend showed him a tweet from the Kansas City Police Department
We really need everyone to not commit crimes and drive safely right now. We'd like to hear the @Royals clinch this.

— Kansas City Police (@kcpolice) October 1, 2014
"I was like 'That's awesome!'" Finnelly said. "That is like the perfect tweet for a police department to put out."
Finnely said that the Kansas City Police showed that even officers in uniform can be interested in the same things, which is important to building a relationship with the community the department serves. He wanted to utilize the conversational tone of the account and was working on the proposal for an official LPD twitter account around the same time. On December 31, 2015, with Finnelly at the helm, @LawrenceKS_PD sent out its first tweet in part of a campaign against drunk driving during New Year's Eve.
Hey @lawrenceks, is encouraging people to get a #DesignatedDriver a good reason to sign up for @Twitter? We think so! #DriveSober #NYE

— Lawrence Police (@LawrenceKS_PD) December 31, 2015
Unfortunately, Finnelly found the tweets boring and they did not garner much attention, either. But he hesitated to use humor out of fear of upsetting people in and out of the department. The account's big break came later that year, immediately after the beloved Kansas University basketball team suffered a crushing loss to Villanova in the Elite Eight. Finnelly sent out a tweet connecting the game to police work in a humorous way.
Sorry, we can't investigate Villanova ripping your heart out of your chest, the crime occurred outside our jurisdiction. #RCJH

— Lawrence Police (@LawrenceKS_PD) March 27, 2016
The tweet blew up and received coverage from multiple mainstream news outlets by noon the following day. The overwhelmingly positive public response and engagement to the tweet helped convince many skeptical administrators at the department that using a more comedic voice could benefit the public perception of police work by humanizing the officers. The relationship and trust between law enforcement and the community can help diffuse situations before they become larger problems, Finnelly said. Standoffs between the police and the people under their jurisdiction that make national headlines are usually in areas where that relationship is weak or nonexistent, according to Finnelly.
"You can't wait for times of crisis to try to build relationships with the community," Finnelly said. "You have to have a relationship beforehand."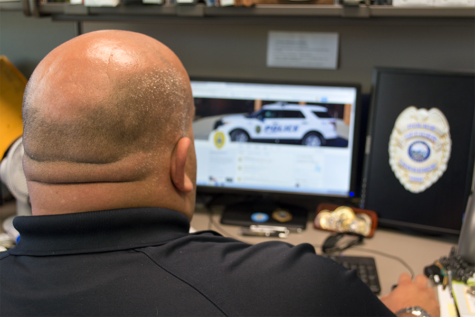 Finnelly described his personality when tweeting from the @LawrenceKs_PD account as sassy and sarcastic, and he shares the same cynical sense of humor with other police officers.
"Humor is a coping mechanism in law enforcement," Finnelly said. "We deal with a lot of bad things, and so cops have some of the weirdest sense of humor of anyone you'll come across."
The entire goal behind the Twitter account– to build trust and understanding in the community through humorous and relatable commentary– can be seen in a recent tweet about an incident presumably involving cocaine.
Pro tip no. 1 of the night: we've heard the "no, it's just sugar" excuse before. It doesn't work.

— Lawrence Police (@LawrenceKS_PD) July 12, 2017
Finnelly said as long as his style of humor keeps working, he'll keep tweeting out to his audience to help make his seat of authority look a little less authoritarian. He's happy to keep building relationships, one tweet at a time.
Leave a Comment