Teachers and District at Impasse
Teachers organize demonstrations regarding district's low salary offer and vague contract language
On August 23, a mass email titled "From The Table" was sent to over 950 teachers in the Lawrence school district. The message contained a summary of what had been decided at the August 9 negotiations session. The more teachers that opened the message, the more frustrated "reply alls" were sent back. Teachers realized how dissatisfied they were with the district's proposed salary increase and unwillingness to negotiate language to clarify guarantees to teachers about their working conditions. Within the 60 plus responses on August 24, teachers began organizing to attend the August 28 negotiations session.
While the main concern identified in a survey of teachers was salary, issues on student and teacher safety topped the list. The district offered teachers a $500 raise. This increase is spread out over the entire school year—which comes out to about $41 per month—and does not take into account the 20% of teachers whose family insurance rates have risen over $1,200. Teachers are especially frustrated because the district received an extra $4.8 million in state funding this year. In the past, 55% of all school funding has gone towards educator salary, so teachers believe they should receive 55% of any new funds as well.
This district's salary proposal amounts to an increase in salaries of ~$600,000 of the extra $4.8 million in state funding. Another $1 million covers an increase in insurance premiums.
David Cunningham—lead negotiator for the Lawrence School District—believes even though teachers feel underpaid, the proposed salary takes into account the needs of the district as a whole, making it an acceptable offer.
"I believe the board has the best interest of teachers and students in mind with any proposal it makes during negotiations," Cunningham said. "As the board balanced all of the needs across the district, it was determined the current offer was appropriate."
Lawrence Public Schools has historically paid teachers less than many surrounding districts (graph below). This makes it difficult to maintain a consistent staff. With ~100 teachers leaving every year, the district has a significant turnover rate. Fifty percent of Lawrence teachers have been hired within the past five years according to Lawrence Education Association.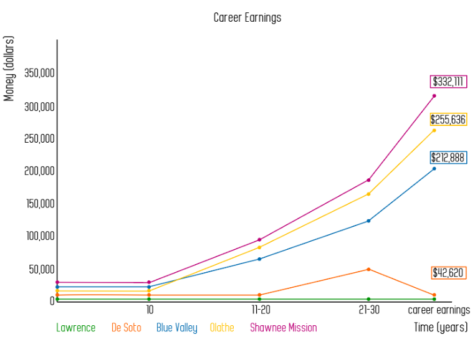 "In any other line of work, people are aware that there is a strong connection between what the pay is and the quality of people that are attracted to the job," David Reber, science teacher and chief negotiator for the teachers union, said. "If you want to attract and retain the best people you have to pay well."
The constant loss of teachers forces the district to spend extra money on training new staff, as well as leaves students without strong teacher connections or a continuous education.
"A teacher's working conditions and a student's learning conditions are the same conditions," Reber said. "We're all in this room together, and if teachers are worried about how they're going to pay their bills or if they're having to find a second job, that's going to have a negative effect on students."
After receiving the August 24 email, ~200 teachers decided to attend the negotiations meeting on August 29. The meeting included discussions of teacher workload, safety and most importantly salary.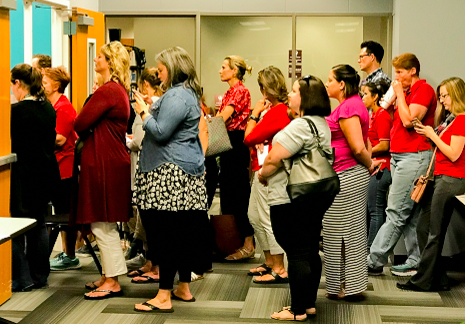 "Teachers are fed up with how education has been cut in state budgets in all 50 states," social studies teacher Blake Swenson said. "Teachers are just more aware of what's going on and are realizing that we can take a stand and actively participate in negotiations."
As well as the salary offer, teachers are upset with the general language of the contract. They feel regulations regarding issues such as teacher safety, assembly schedules and unpaid volunteering are too vague. As teachers brought this up to the district, administrators refused to negotiate making the guidelines any more specific. Teachers then consulted with the Kansas National Education Association to find that, legally, the district is required to negotiate these issues.
"When it comes to language issues, the thing that is most frustrating for teachers is the refusal to negotiate," journalism teacher and LEA president Laurie Folsom said. "It doesn't mean they have to accept our proposal, but they're not willing to come back and say what an alternative or compromise could be."
Fed up with the district's treatment, teachers began organizing to "work the contract." Since their contract is for an eight-hour work day and require any volunteer work, some teachers have declined unpaid work outside the duty day. Teachers who are working the contract show up no earlier than the official start of the work day, leave immediately at the end of the work day and refuse to work volunteer events.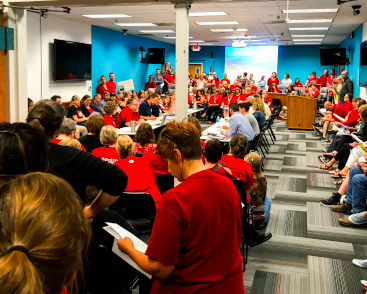 On August 31, teachers at Langston Hughes Elementary walked into school as a group at the 8:15 a.m. start of the day. Similarly, Liberty Memorial Central Middle School teachers refused to attend an open house for parents and students, since the event relied on teachers to volunteer.
"[We teachers are] communicating with ourselves and trying to come up with a consistent message of what we're trying to say," Swenson said. "We're going to continue to show up to board meetings, organize ourselves and talk to our administration about what is expected from them in each school and about the relationship between the administration, the district and the teachers."
Along with working the contract, teachers are also wearing "Red for Ed." Across the district, educators are wearing red shirts every week as a small display of solidarity.
The 2018-2019 contract still undecided until the mediation meeting set for October 10. Only time will tell if teachers' demonstrations will convince the district to reconsider their offer.
"I think teachers highlighting what they've done for free will definitely raise awareness in the community and will help educate our school board and district administration that [teachers] will not be ignored anymore," Folsom said.
Leave a Comment