Seniors Max Lillich and Spencer Yost-Wolf take debate State title
Seniors Max Lillich and Spencer Yost-Wolf win debate State championship in 3-0 decision
Seniors Spencer Yost-Wolf and Max Lillich are competing the finals round of the Kansas state debate championship at Garden City High School. It's midnight on January 13, and they have been debating for more than 16 hours straight.
Yost-Wolf and Lillich are affirmative—meaning they have to defend the resolution, "Resolved: The United States federal government should substantially reduce restrictions on legal immigration to the United States."
Despite this being his eighth round in one day, Lillich notes that he never feels fatigue until a tournament is over.
"You kind of just get used to it and you go on with it," Lillich said. "It was well worth it to get [to the finals round]."
It took Yost-Wolf and Lillich many hours of prep to gain a spot in the most important state-level tournament of the year.
"Leading up to state, it was probably 15-20 hours a week [of prep]," Lillich said.
The finals round is now over—Yost-Wolf and Lillich are nervously waiting for the judges to make their decision. For Yost-Wolf, the results of this round are a culmination of years of dedication to an activity which he loves.
"This is my third year of debate, and this is Max's fourth year of debate," Yost-Wolf said. "In the grand scheme of things, I have no idea how many hours were put into it over the years."
Despite spending so much time reading and reciting speeches, Yost-Wolf has never had trouble finding meaning in his work.
"The more in-depth that I learn about those structures, visa processes, etcetera, the more I feel like I'm not just helping myself but helping make our generation more educated," Yost-Wolf said.
Back at Garden City High School, the judges are finally ready to announce their decision.
"[Waiting for the judges' decision was] stressful, but we all but we felt that Max and Spencer won," said sophomore Jacob Wilkus, who was present during the finals round after participating in another division of the tournament.
Yost-Wolf and Lillich win on a 3-0 decision. They didn't lose a single round  for the entire tournament.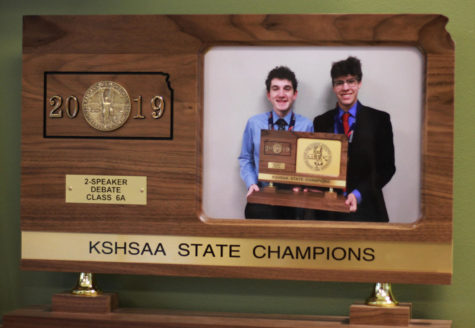 "It was wild. [Our debate coach] was hugging everyone," Wilkus said
But Lillich says the finals round wasn't as challenging as those which came before it.
"Going into all the rounds we thought that quarters would be our hardest round," Lillich said. "The round we were most nervous about in the waiting period [before the judges announce their decision] was octofinals, because the panel [of judges] was extremely unpredictable, and we didn't know what was going to happen."
Yost-Wolf believes his and Lillich's productive teamwork gave them a competitive edge.
"There are a lot of teams where I feel like two debate partners will lash out at each other," Yost-Wolf said. "Max and I are pretty good friends, so that makes it a lot easier, because we are never pointing fingers… when we lose a debate. It's always 'What can we do better? How can we make that change?', and then we make that change next week. That really showed at state."
The Free State debate coach, Kelly "KT" Thompson, said that collaboration within the squad as a whole helped Yost-Wolf and Lillich as well.
"I think that before the competition, they trusted their squad which really helped to do the work that needed to be done," Thompson said.
Recognizing that some teams experience conflict between students and coaches, Thompson feels a tournament is best approached through complete cooperation.
"You have to trust your teammates and your coaches," Thompson said. "Every coach has a different message, and every team has different team members. You'll always get further by trusting your coach than fighting with your coach."
While they may feel accomplished having conquered the state tournament, Yost-Wolf and Lillich's season isn't over yet. They qualified for nationals at a tournament earlier in the season, for which they have high aspirations as well. Their goal:
"To win, baby," Lillich said.
However, Yost-Wolf believes he and his partner—along with other competitors striving for a state title—should never lose sight of what they enjoy about the activity.
"If it's something you're really passionate about—even though preparation towards that state championship can be really grueling—don't forget how much you love what you do, regardless of how much work you have to do for it," Yost-Wolf said.
View Comments (1)