Pros of Social Media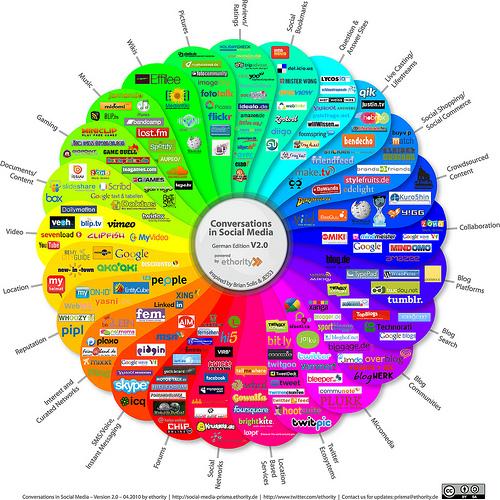 Our generation revolves around technology. Social media is all the talk with a billion people on Facebook, over 500 million Twitter users and four billion views on YouTube per day. A certain resentment is put towards our generation for being so highly privileged with resources. Kids are drilled with the, "When I was a kid…" speech as parents attempt to shift their children's focus away from Twitter and towards the dinner table.
What the older generation isn't considering, is the idea that social media is helping us and bringing us together.

Social media brings about opportunities and conveniences that our grandparents could have never even imagined. Social media gives more of the dreamers a chance at their desired reality.
Without the aid of YouTube, "Bieber Fever" would just be two words that rhyme. Although I am not personally a Belieber, and would get by just fine without Justin Bieber's hair flips and excessive use of the word "swaggie," I find his rise to stardom inspiring. Everything began when a few people watched his videos, those few showed their friends, and soon enough, R&B/pop sensation Usher was signing the boy with the multi-million views.
YouTube turned a boy from Canada into a pop sensation and the universally desired boyfriend across the world. Not to mention, Bieber has made history with accomplishments like selling out two concert dates for Madison Square Garden in 30 seconds.
Not only can individuals promote themselves via social media, but businesses and organizations can use social media to their advantage as well. Numerous websites and blogs are dedicated to helping companies optimize their social media marketing. These include tips on how to interact with their audience and the best time in the day for maximum retweets.
To all the kids like myself who can never find motivation to watch the 8 o'clock news, social media helps keep us in the loop. According to ProCon.org, social networking sites are the top news source for 27.8%  of Americans. Certain events like Hurricane Sandy and the Sandy Hook tragedy were first brought to my attention by scrolling down my Twitter timeline.
Through my Twitter timeline, I also heard about Zay Boldridge, a senior on the LHS basketball team who had recently been diagnosed with cancer. A name I had never heard before was filling my phone screen, and #PrayForZay was the new trending topic.This hashtag, along with tweets informing students to wear the color purple in honor of Zay, turned the biggest rivalry game of the season into a night of mutual respect.
In this web of social media, we don't have to worry about being out of touch with those who are far away. The college kids living far from home can Skype with their parents whenever they begin to get homesick. The proud moms and dads can share pictures of their children with all their relatives on Facebook. The star-struck teenagers can check Twitter to keep updates on their favorite celebrities' daily activities.
As social media continues to become more interactive, kids will struggle to be consumed. However, with a little self-discipline and some enforcement from mom and dad if need be, an occasional Twitter update or Snapchat to a friend will remain harmless.