EDITORIAL: Top G Behind Bars
The misogynistic and hateful "jokes" from internet personality Andrew Tate were hiding an even darker story, proving that people need to seriously vet who they follow on social media and support online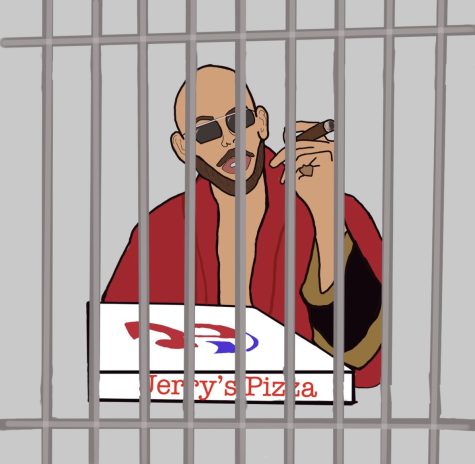 11 days after I wrote my "Top G No More" editorial, internet personality Andrew Tate was detained in Romania for a human trafficking and rape investigation. 
Tate was originally banned from Twitter for hate speech in summer of 2022. However, when Tesla CEO and business man Elon Musk bought the rights to Twitter, Tate's account was reinstated. After resurfacing from being banned online, he stormed the internet and mocked climate activist Greta Thunberg for encouraging recycling and pollution control. 
In response to a tweet Thunberg made, Tate recorded a video asking someone off-camera to hand him pizza boxes and to "make sure that these boxes are not recycled." He then proceeds to brag about his 33 cars and significant contribution to pollution.
Soon after, Romanian authorities took Tate into custody. Many speculate that it was the logo of the domestic pizza chain Jerry's, on the box that led authorities to his location.
According to CNN, Romania's Directorate for Investigating Organized Crime and Terrorism alleged there were six victims that were "sexually exploited by the organized criminal group." Authorities alleged that the victims were coerced into believing they were entering a marriage/cohabitation relationship, while being transported to Romania and being sexually and physically assaulted. 
Tate is currently facing charges of human trafficking, rape and forming an organized crime group. He was originally supposed to be detained for 24 hours as part of the investigation, but a judge ordered an additional 30 days due to the ongoing investigation. This led Tate's lawyer to file an futile appeal that was quickly denied. 
Tate and his lawyers consider the ruling "totally unjustified" and a political issue. 
"My case isn't about the truth. This is about Politics," Tate said in a Twitter post about the investigation. 
Apart from his freedom, an estimated $3.9 million worth of assets were also seized. Tate's legal team unsuccessfully tried to appeal that as well. 
Official court dates for the investigation have yet to be revealed to the public. 
People need to look closer at who they follow and support on social media and the content they consume. Words hold power and influence, and "jokes" are sometimes warnings for more sinister actions. In this case, misogynistic humor was used to mask human trafficking and rape.