Home to the beloved Massachusetts Street in Lawrence, Kansas is the Great Blue Heron Outdoors: an outdoors shop, fly shop, canoe and kayak dealer and cafe all in one. This shop is described by the owners as a community of water activities, but it doubles as a coffee shop as well, which intrigued me as a coffee enthusiast. I decided to give the shop a try to test just how good a coffee shop inside of a water sport store could be.
The environment of the store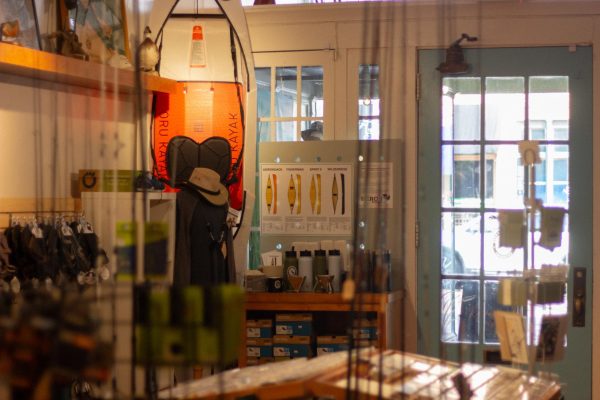 itself was super interesting to me; on one wall of the shop was a full coffee bar, and in the rest of the store was outdoor wear, a wide variety of fishing supplies, camping gear and everything in between. I thought the ambiance of the store felt very charming and welcoming.
When I went to order, I was greeted by very friendly baristas who were happy to assist me by providing helpful suggestions for orders. Per my barista's suggestion, I ordered off of their seasonal drink menu, which included a peanut butter marshmallow mocha, spiced brown sugar latte, pumpkin spice latte, pumpkin chai latte and a cardamom apple cider, although their regular menu also looked to be extensive. I was recommended the spiced brown sugar latte, and I ordered it iced and with oat milk. I also tested the cardamom apple cider as an option for those who do not enjoy coffee beverages. 
The spiced brown sugar latte exceeded my expectations. As someone who enjoys the brown sugar shaken espresso from Starbucks, I felt that this tasted like a better alternative to it. The total of my drink was fairly cheap, especially compared to the Starbucks drink, all for an amazing taste. I personally find that a lot of cafe's espresso drinks taste too acidic, and I thought the Great Blue Heron latte tasted perfectly smooth and sweet.
The cardamom apple cider was a hot drink, and I thought it was also very good. I would say that it is definitely something I would not typically order at a cafe, but overall I was pleasantly surprised. It perfectly encapsulated the taste of fall with the taste of warm spices and apple. If you are not a fan of coffee, I would highly recommend ordering one on a cold day. I personally don't fall into this category, but I enjoyed it regardless. 
In my opinion, my latte delivered  the perfect flavor complex, so I would love to go back and try out some of the other flavors on the menu. I can confidently say that the Great Blue Heron will be my new go-to coffee shop moving forward.