Splashing Success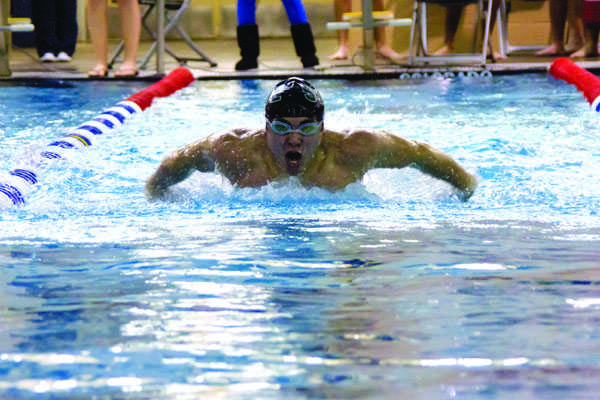 hannah moran, reporter
January 20, 2012
"When I'm on the blocks, I say, 'It's go time,'" sophomore Canaan Campbell said. "I just tell myself 'I can do it!' I've put in the effort. When the gun goes off, I react. I don't think about things when I swim. I don't expect to win. I just swim my race."
Even without great expectations, the boys swim team managed to claim first overall at all three of their home meets. This is largely due to their rigorous practice schedule, mental strength and team camaraderie.
The boys swim team has never contained members under the age of 15. Fortunately, along with the addition of many freshmen, plenty of juniors and seniors brought their leadership to the pool this year.
"It's a young team, we have a lot of new freshmen who are inexperienced, but we have a lot of experienced juniors. We're mostly leaning on the juniors," senior team captain Andrew Roman said.
The way to win: Practice, practice, practice.
Even through winter break, the boys practiced for three hours almost every day. Except, of course, for the days when the school was completely shut down. During these five days, the team was encouraged to swim elsewhere.
During the typical school week, practices are just as strenuous."We start stretching around 3:30," Sophomore Evan Barnes said. "We normally do squat jumps, volleyball jumps, push-ups and sit-ups. After we do dry lands, we get in and do a warm up which has progressively gotten harder as the season's gone on."
"We get ready to go into the pool, put our cap and goggles on, and brace for the cold water," Roman said.
After the warm up, the swimmers are assigned a "main set" which is designed to be physically and mentally challenging, and requires about half an hour to complete.
"It's like any other sport, but in water it's hard to stop yourself. If you're playing another sport you can take a break, but in swimming you're out in the open," Barnes said. "Ignoring your mind telling you to breathe is pretty difficult."
On average, each member of the team ends up swimming roughly 2 miles per practice.
Saturday practices are a bit different.
"Saturday mornings…basically, we sit in the locker room until she [Coach McDonald] gets mad at us," an anonymous swimmer shared.
To be a successful swimmer, proper attire is necessary.
"Speed suits are called jammers. They're like compression shorts, except for swimming. We wear them for meets–they're pretty comfortable," Barnes said.
Attire for practice is a bit different. "A lot of guys wear jammers and a drag suit which is a bulky, small Speedo, but a lot of guys just wear the dragsuit so it's kind of like a small baggy diaper."
This year, a new fashion trend of wearing just a drag suit to practice has emerged.
"They're super comfortable because there's microscopic holes in it.They're not gross or disgusting or anything," Barnes said. "However, shaving our legs…yeah. That went down."
Outside of typical practices, the swimmers make sure to eat correctly, get plenty of rest, and visualize. Normal practices are so rigorous that extra training is unnecessary. "You don't really have time to do anything else," Barnes said.
The visualization pays off at meets.
First, Free State plays the intimidation factor. "We get there early and we want to be warming up before other teams warm up to show we're ready to go," Barnes said.
Next come the pre-meet rituals, which include a speech, a cheer, and the placing of Lawnie the Land Gnome. "Lawnie the Land Gnome is our swim team mascot. He sits on the high dive at every home meet and brings us good luck. He's our guardian," Roman said.
Finally, the actual swimming begins. Swim meets resemble track meets in that there's a set schedule of events, different heats, and points earned for each swimmer who places in each race.
"Another reason it's a team sport is you swim what the team needs you to swim. I swim endurance, so the 500 free, 200 individual medley. For my relays, I do the 200 medley relay," Roman said.
Practice pays off.
"Winning is satisfying because we swim six days a week for a couple hours, and for people who don't win first places, it's very satisfying to win as a team. Every point counts and every swimmer counts," Roman said.
"Winning a heat feels really good–to touch the wall and look around and see no one else there yet," Barnes said.
After a highly successful season, the Firebird swimmers are gearing up for State. Meets throughout the season seldom match the intensity of State.
"At State, that's the final culmination of all your training. You may be super nervous because it's really loud, really high energy, it definitely adds fuel to the fire that you have to do well in your events and hopefully get top eight and get a medal," Campbell said.
As for placing at State, the outlook's pretty good.
"I think Ben Sloan could win some events at state. Conner Munk and Kyle Yoder could get top 8–I really think we can because we put in the work and we're just really loaded," Campbell said.
"As for myself, the two time defender of the 500 broke his hand, so I'm like 'YES! I have a chance to get top 3 at state!'"