Fall Sports Captains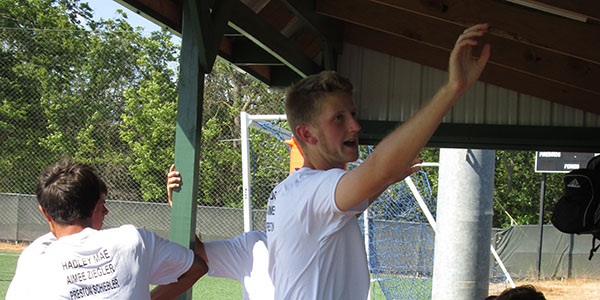 As senior Grace Cairns prepares for a high school football game, she concerns herself not with what she looks like, but if her teammates' outfits correspond and hairstyles match.
Heeding these minute details, that fellow participants and spectators might not realize are vital to a good performance, is only part of a team captain's duties.
"To games I have to pick out what we're going to wear, and at games where we dance, I kind of pick out what we're going to do then," Cairns said. "Most sports don't have to coordinate what they're going to wear as much as we do, and that's a pretty big responsibility."
As the only senior on the pom squad, Cairns says she was automatically chosen for the leadership position, and the team voted on the second junior captain. However, in other sports, captains may be determined by coaches or other factors.
"I've been playing on the team since my sophomore year," said Alexis Czapinski, senior tennis captain, "and I've gone to state all the years I've been playing, and . . . I had shown love for the sport and love for the team."
Often captains are selected because of their time dedicated to the improvement of the team.
Senior soccer captain Chris Allen has logged his fair share of time in a firebird soccer jersey. Possessing strong leadership qualities both on and off the soccer field, Allen was prepared to become captain.
"…so it was almost like my time to finally be that leader," Allen said. "I put in the work and I put in the time so I got what I deserved."
While experience and leadership skills are necessities for all team captains, their responsibilities vary from sport to sport. With different facilities and atmospheres, obligations are individualized for each sport.
"They [captains] lead stretches," said Blake Winslow, senior football leader. "We're responsible for keeping the locker room clean, making sure the field gets picked up, housekeeping stuff like that. And we're in charge of making sure the younger guys know what to run and know the plays."
Winslow explains that football seniors rotate between captainship for each pre-game coin toss.
As the girls' tennis captain, Czapinski hosted the first team dinner in addition to her other unique responsibilities.
"A lot of it [responsibilities] is just motivating the team," Czapinski said. " . . . I know it's not as big of a deal as some other sports."
However, being a team captain is a meaningful role no matter which sport, and its responsibilities follow the individuals on and off the field. Breaking the stereotype of a brutal senior-male-captain, Allen realizes the importance of being a good role model.
"I just try to do the little things right," he said. "Always be nice in the halls, good on the field, talking to them in  the way that they can get better and help the team and not just yelling at them."
With a pom team comprised of mostly underclassmen, Cairns also values her ability to shape an incoming generation of student dancers.
"I lead by example," Cairns said.  "If they see that I'm doing right, they'll kind of follow my footsteps especially because we have six freshmen."
While talent and hardwork are found in all grades, perhaps the quality of leadership from the senior captains is the secret to the Firebird sports' success.
Leave a Comment