Student-athletes sign with NCAA Division I schools
Senior Jessica Ferguson has a great mom–one who's willing to accompany her talented, soccer-playing daughter on college visits all across the United States.
In Boiling Springs, N.C., Ferguson discovered her dream school. She committed to play soccer at Gardner-Webb University. She says that out of all the schools she visited Gardner-Webb suited her best.
"… I thought the campus was great, the college size was perfect, the students there were great, and I love the girls on the team," Ferguson said. "They were so nice to me … I couldn't have dreamed of a better school."
Ferguson is one of several students who recently committed to compete in NCAA Division 1 athletics.
Another soccer player, senior Olivia Hodison, committed to the University of Missouri Kansas City (UMKC), a school that was originally not on her list.
"… I actually hadn't really heard about [UMKC]," Hodison said. "I was really looking at Creighton and Texas … UMKC contacted my club coach … so I looked up some things about their school, and I was very impressed."
She wanted to be able to make her mark on the team while still being challenged by the competition. However, the biggest factor in Hodison's decision was the scholarship offer she received from UMKC.
Hodison hopes that her acceptance onto a college team will help her showcase her abilities.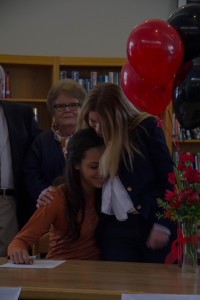 "Being a short defender is going to surprise a lot of people that my coach picked me over maybe a 5'7" girl," Hodison said. "I think I have a lot to prove, and I'm excited to be able to work my hardest now and throughout the summer to prove that I am able to play at that high level at a division one school."
Senior Bailey Sullivan committed to run cross country and track at Texas Christian University (TCU). Although she was looking for a college at which to run, Sullivan said her first priority during her college search was academics.
"It's a strong academic school, and it's on the smaller side which means small class sizes and good teacher to student ratios," Sullivan said.
TCU's Big 12 membership also played a role in Sullivan's decision making process.
"… It's kind of the best of both worlds combining academics and athletics," Sullivan said.
Prior to recruitment visits, senior Alexa Harmon-Thomas had no idea where she would end up, but after conducting research and visiting colleges, she committed to compete in track for the University of Texas in Austin.
"… Being around the coaching staff and seeing the team dynamic is really what helped me reach my decision … It was kind of a toss up until I just got there, and I felt how it would be to be there," Harmon-Thomas said. "Texas definitely gave me the best feel."
Along with finding the right college, athletes looked for enjoyable environments surrounding the campus.
"[Boiling Springs] was like a southern, really nice town, and everyone there was really nice, and they all had a cute little accent," Ferguson said.
Sullivan was looking to get away from Kansas' bipolar weather conditions.
"When we started searching for colleges … We went through the areas that I was interested in," Sullivan said, "So we looked a lot in warm areas like California, Texas, North Carolina, Louisiana."
Forging lasting and valuable relationships was also important to these student-athletes.
"One thing that I'm really excited about is that it's kind of an automatic friend group," Sullivan said. "Teams usually have really strong, family like relationships, so I'm gonna have a bunch of really close friends probably right from the start."
"
Teams usually have really strong, family like relationships, so I'm gonna have a bunch of really close friends probably right from the start."
— Senior Bailey Sullivan
For Harmon-Thomas, a strong bond with her event coach is crucial.
"If you decide to run post-collegiately [they] will be your coach and your support system for many years after," Harmon-Thomas said.
Although college student-athletes have access to extra academic assistance, each one of the student-athletes interviewed expressed the same concern about time management.
"… It'll be stressful having that big of a responsibility to deal with while at college," Harmon-Thomas said.
Although being a college athlete requires a large time commitment, Ferguson urges any student-athlete to play in college and insists it will be worth the sacrifice.
"You can't look back when you're 40, you'll be too old by then to think, 'Oh, I wish I would have gone and played,'" Ferguson said. "Even if it's a JUCO [junior college] or small school, it's gonna be a great experience, and you're gonna meet a lot of great people along the way."