Athletes reflect on fall season, look forward to winter
Gymnastics
The gymnastics team finished the season defending their state title for the third time in the last four years. This was also the second consecutive title for the girls.
"(People) put a lot of pressure on our whole team," senior Grace Bartle said. "But I think we took it well."
Bartle placed in the top five in vault and took fifth place at state all-around. She was also the state champion in floor exercise.
Senior Haley Johnson placed sixth on her beam routine and earned high enough scores to take ninth all-around.
Junior Callie Hicks also placed in the top five for vault and finished fourth place on the uneven bars.
Senior Carrie Howland tied for sixth place in floor exercise.
Bartle attributes the team's first place title to collaborative effort and dedication.
"Free State (gymnastics) would go to practice … Then the gymnastics team would all meet up at open gym and then practice till 11," Bartle said. "That was a lot of hard work."
"
Free State High School gymnastis means the world to me. I have never had a greater experience in my life."
— Senior Grace Bartle
Bartle will miss the tiring hours the team put in leading up to the final results.
"Free State High School gymnastics means the world to me," Bartle said. "I have never had a greater experience in my life."
Girls' Golf
To end the season, senior Emily Bermel earned first-team All-Sunflower League honors for girls' golf. Senior Karen Campbell earned honorable mention as well.
The girls' golfers had their ups and downs throughout the season, but ended up qualifying for state, an important achievement for Bermel and Campbell.
"(Campbell and I) felt like we were kind of a big reason for why we got there," Bermel said. "We really put everything into it."
In addition to Campbell and Bermel, sophomore Anne Goebel and seniors Erin Meyers, Savannah Reeb and Sydney Buller contributed to Free State's tenth place finish at state.
Cross Country
In addition to winning regionals and league, the cross country team's hard work throughout the season led to the girls placing second and the boys placing fourth at state.
Junior Ethan Donley was the top finisher for Free State, in sixth place.
"
I felt energized and excited (when I crossed the finish line). I was really excited that everything had paid off throughout year."
— Junior Ethan Donley
"I felt energized and excited (when I crossed the finish line)," Donely said. "I was really excited that everything had paid off throughout the year."
Junior Tanner Hockenbury and seniors Thomas Becker, Colton Stallard, Connor Ballenger and Curtis Zicker also contributed to the fourth place state finish.
The girls finished in second place at state, and sophomore Emily Venters defended her spot as state champion for the second consecutive year, rounding out her undefeated season.
Sophomore Kiran Cordes, juniors Claire Sanner, Rachel Witt and Liv Lyche and seniors Marlee Yost-Wolff and Allyson Hertig also competed at state.
Girls' Tennis
Senior Taylor Hawkins and junior Rachel Walters finished 12th in doubles at state.
In addition, they placed first at the Emporia Invitational in an all-Free State finals round, third at regionals and fourth at league.
Hawkins was proud to watch her and her partner's efforts pay off at state.
"It was a really great feeling to know that everything you worked for, you finally got," Hawkins said.
Junior Caitlin Dodd and freshman Ali Dodd also competed in doubles on the first day of state, but they were eliminated after a tough round and did not play in the second day of the meet.
Volleyball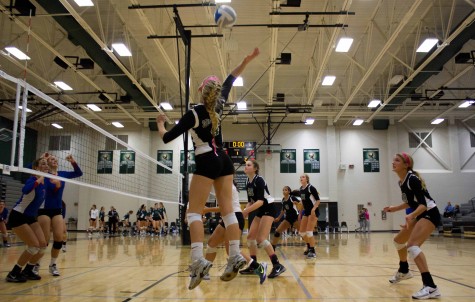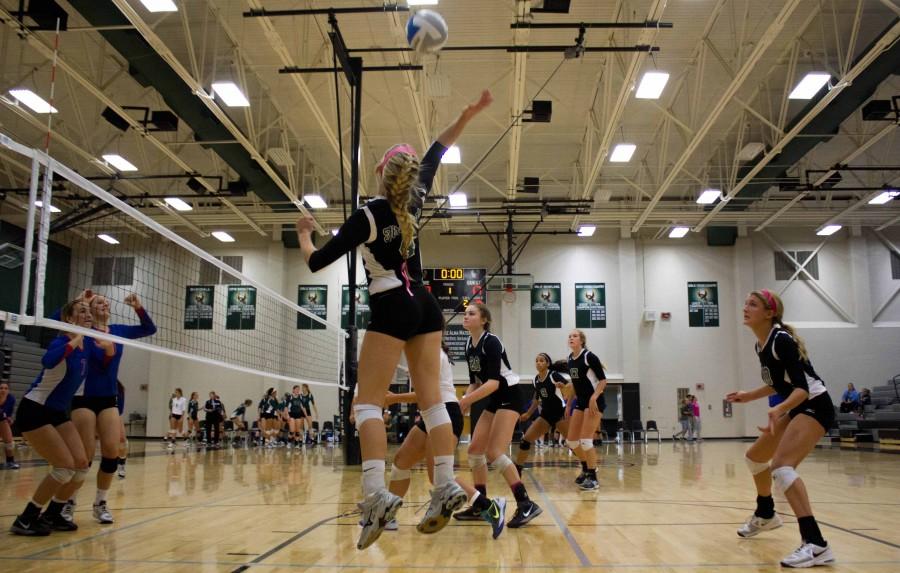 The volleyball team's results varied throughout the season.
"During practice we were really inconsistent," sophomore Payton Gannaway said. "We'd work together sometimes, and sometimes it wouldn't be very serious."
Despite these troubles, they were able to defeat LHS in the city showdown.
"Everyone felt pretty great," Gannaway said. "We were all just working together. Everything was working."
Unfortunately, when paired against Olathe East in the sub-state tournament, they could not beat the defending state champions.
Boys' Soccer
The soccer team finished the season with a 9-8-1 record. They significantly increased their number of goals compared to last year, with 40 instead of eight for the season. Senior Daniel Clarke commented on the team's progress.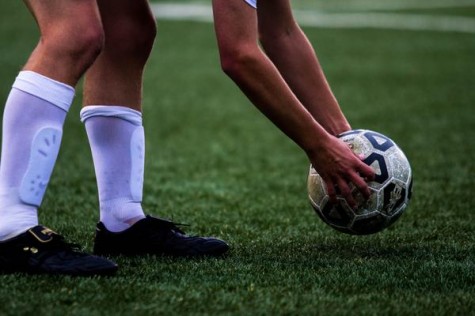 "Our defense was a little lacking this year, but offensively we were able to fix what we weren't able to fix last year," Clarke said.
The two wins against LHS were also strong points for the boys, who hadn't beaten the cross-town rival in four years.
Although the team saw major improvements, they faced an unfortunate end to the season in a loss against Olathe East in regional finals.
"They came out hard, like we knew they would, because we played them earlier in the year, and they beat us 5-1," Clarke said. "I think we felt overpowered by them because they were all really big, and we're a pretty small team."
In the end, the soccer team stood by their recurrent theme "Ubuntu," meaning "I am who I am because of who we are."
Football
As of Nov. 13, the football team is in a post-season winning streak.
"I'd like to say we'll get to the state championship," senior Joel Spain said. "Everyone knows it's possible for us to do it. We just have to perform."
In order to do that, the football team will have to hone certain skills.
"Our defense needs to be at the top—the best it's been all season," Spain said. "Everyone says, 'Defense wins championships."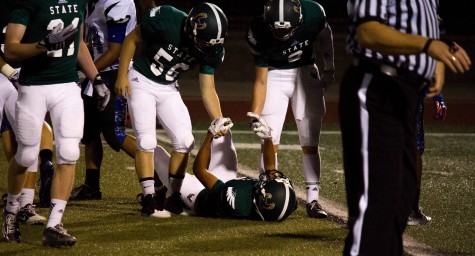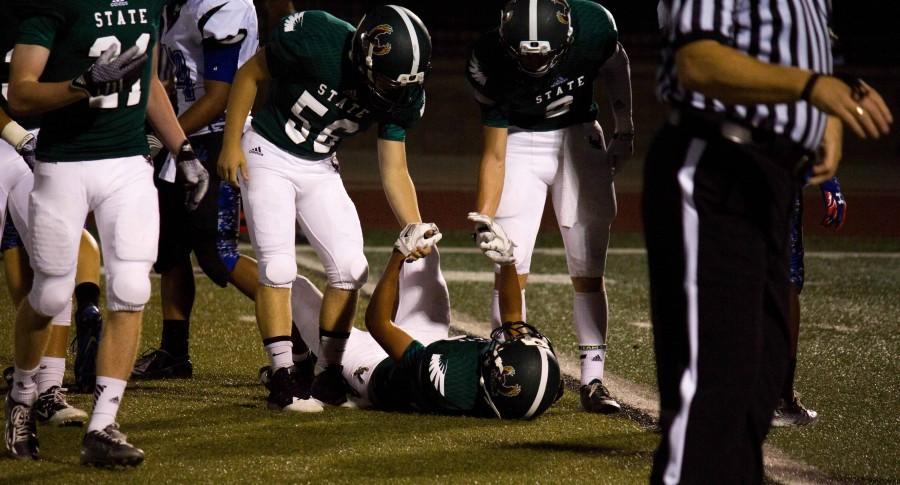 Spain felt less confident about the season when it started because the team is comprised primarily of younger players. His fears may have been unnecessary.
"It's difficult being a senior and having to be a leader and teach these guys," Spain said. " … But they've picked it up real easily so it hasn't been too hard for us. I think they stepped up and made big contributions."
The team hopes to  continue their undefeated postseason in the games leading up to the state championship on Nov. 29.
Boys' Basketball
The boys had a strong season last year, winning a little over half of their games. Junior Darian Lewis hopes to improve this record in the upcoming season.
"
(One of our goals is) to overcome everyone's expectations because a lot of people don't think we're going to be that good."
— Junior Darian Lewis
"(One of our goals is) to overcome everyone's expectations because a lot of people don't think we're going to be that good," Lewis said.
He also had a more specific goal in mind.
"For me, at least, I'd like to beat LHS," Lewis said.
The first varsity game of the season is Dec. 4.
Girls' Basketball
The girls started out last year's season with four losses in a row, but they were able to make a comeback and end with a season record of 10 wins and 12 losses.
Head Coach Bryan Duncan envisions a season with more wins.
"My goal is to win every game we play," Duncan said. "I think this year we'll have players in positions of leadership that can help push each other a little more."
Boys' Swimming and Diving
The boys had a consistently strong season last year and placed fifth at state.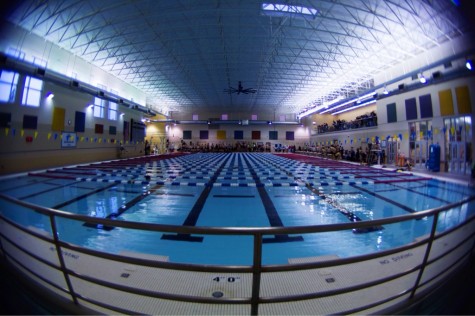 "(A goal for the season is) to move up from fifth place to be in the top three," Coach Annette McDonald said. "We want to bring home some hardware."
Bowling
Overall, both the girls' and boys' teams did well throughout last year's season, often placing first at invitationals. At regionals, the boys placed ninth and the girls placed fifth.
As for the upcoming season, a major goal will be improving the playing environment.
"I think we all just want to be there for each other more, and we want to work harder," senior Bri Martin said.
Wrestling
The Free State Wrestling team made it to quarterfinals at the state tournament last year.
"We were hoping to get a championship," junior Cameron Shanks said. "Hopefully (we'll make it) to state this year and get a place."
Qualin Fowler, Sid Miller, Colton Steele, Sam Skwarlo and Tyler Sampson all competed for Free State.