High schools unite to support Kapfers
"Today represents more than just a rivalry between Lawrence High and Free State," senior Jaja Wang said. "We [came] together to support our Free State family…"
The soccer city showdown was more energetic than usual, but instead of students calling out the opposite school, fans were focused on supporting senior soccer player Owen Kapfer and his family.
"[The support] makes me want to live in LK for the rest of my life," Kapfer said. "I had the backing from Free State and LHS as well; it was beautiful."
The city showdown was supposed to take place on Thursday, Oct. 6, but it was delayed due to weather. The following Saturday, Oct. 8, Owen's mother Amanda Kapfer passed away from colon cancer. The day leading up to the game was difficult for Owen Kapfer.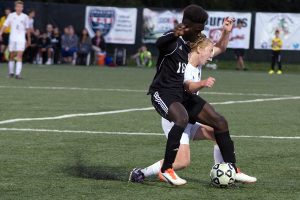 "It was tough," Owen Kapfer said. "I had to make it to half of the school day…I went out there and did my thing, just like any other day."
The Kapfer family has always been actively involved with the soccer program. Free State students, Lawrence High School students, faculty and parents organized several events and movements to show their support and appreciation for the Kapfers.
LHS senior Megan Nation knew Owen Kapfer from classes at the College and Career Center. When she heard about Amanda Kapfer, she sent out a call to action to every grade's group chat.
"I went into every single group message for each class…and I wrote a big paragraph saying 'Hey, we're gonna go [to the soccer game]. Everyone wear yellow. Everyone cheer out loud for Owen and his family…We want to support her. She deserves this support, and she's kicking ass.'" Nation said. "I respect her so much, and I feel like coming out here and having all these students just shows how much support Owen and his entire family [have]."
The two schools had their own student sections, but they were indistinguishable. Nearly every fan, regardless of which school they attend, was sporting the color yellow.
"Yellow is her favorite color," Nation said. "Everyone got the memo."
The soccer bleachers were packed with students and fans at kickoff. Tecile Newsome, a longtime supporter of the soccer team and parent of varsity player Charlie Newsome, said that she had never seen the stands as full as they were Tuesday night.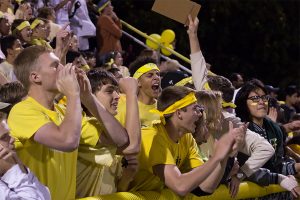 "I've been in the program twelve years…and we've never had this many people at a game," Newsome said.
Newsome explained that she got to know Amanda Kapfer and the Kapfer family through soccer. Tuesday evening, she was decorating the bleachers with yellow ribbons, organizing signed gift cards for the Kapfer family and passing out party poppers for fans.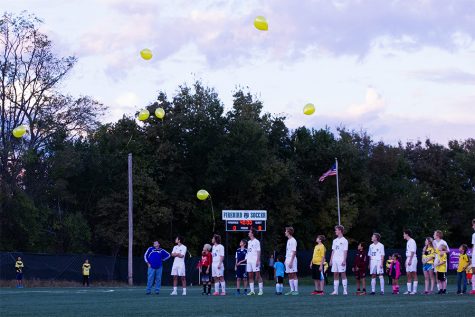 Before the game, there was a moment of silence for Amanda Kapfer. During the game, both teams cheered Owen on. However, fans from both teams agree that the city rivalry was still present.
"The game is in support for the Kapfer family, but it is a city showdown," Nation said. "We'll still play our hearts out tonight."
It was a close match. Neither team could score in the first half, nor gain an advantage until there was 13:55 left in the game. Senior Cooper Moreano scored on LHS to win the game 1-0. Owen said that he was about to substitute into the game when the goal was scored, but his teammates came to him.
"All my teammates came over and hugged me," Owen said. "I wouldn't have had it any other way.
Immediately after the final whistle, hundreds of Free State and Lawrence High fans gathered on the field and formed a circle. Head coach Kelly Barah stood in the middle of the congregation and gave a short speech about the importance of family and supporting each other.
"Someday it may be another color," Barah said. "But if we don't have this [family], that color won't matter."
Leave a Comment