Firebirds fall to Huskies in tough semifinal loss, finish strong against Blue Valley North for third place title
[nggallery id=37 template=carousel]
As the student section's "Thank you seniors" chant rang out in Koch Arena as a memorial to the the boys' past four years, the future of the program played on the court in front of them.
By the time Blue Valley Northwest guard Sam Ward slammed the ball through the rim with just over a minute left, the game was long over. With the starters sitting the final three minutes, many of the role players and underclassmen gutted out the final few moments of the 67-40 loss.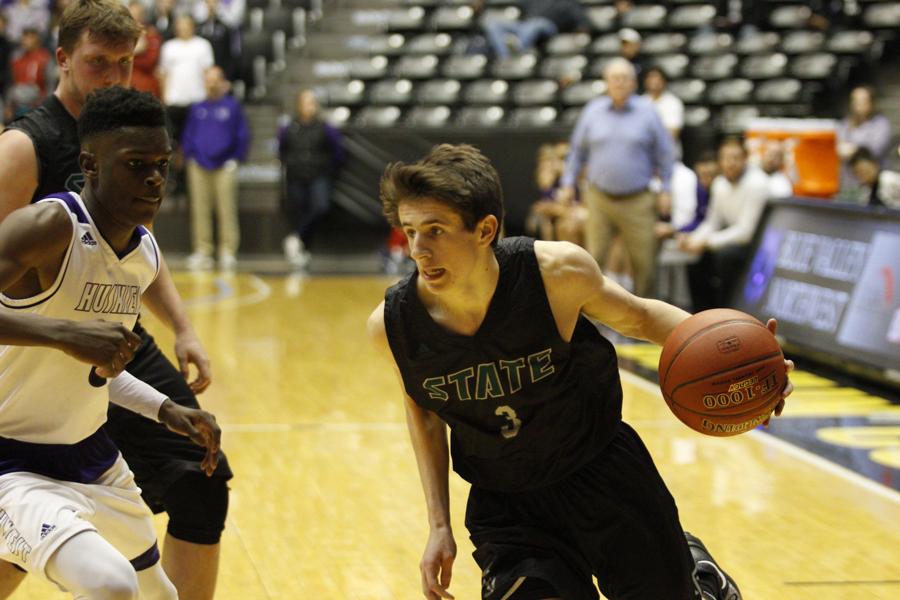 It was a dismal night for the Firebirds who struggled offensively and couldn't string together stops on the defensive end. By halftime the No. 1 seeded Huskies were off to a 25 point lead thanks to contributions from Parker Braun and Darien Jackson. BVNW's skillful shooting and athletic big men led them to shoot at an outstanding 55% clip from the field, and a 23 to 11 rebounding advantage at the half.
Despite the large deficit his players faced, Coach Sam Stroh reassured his players to "finish strong." Stroh's Firebirds came out of the half calm and focused, only allowing the Huskies to make 4 field goals the entire third quarter. Free State outscored BVNW in the quarter 14 to 12, but still faced an insurmountable lead by the Huskies.
Down 23 points at the beginning of the final eight minutes, the Firebirds failed to lock down on defense and come up with continuous positive possessions. BVNW scored the quarter's first four points and forced a turnover. Stroh emptied the bench and gave role players such as Jared Hicks, Avant Edwards and underclassmen Jake Baker and Turner Corcoran a valuable experience. They demonstrated plenty of potential on the big stage. Edwards hustled on defense and created open looks on offense, while Corcoran and Baker orchestrated a beautiful play down low with successful interior passing. Freshman Corcoran recorded an assist with a swinging pass to a cutting Baker for a lay in, which excited many seniors on the bench.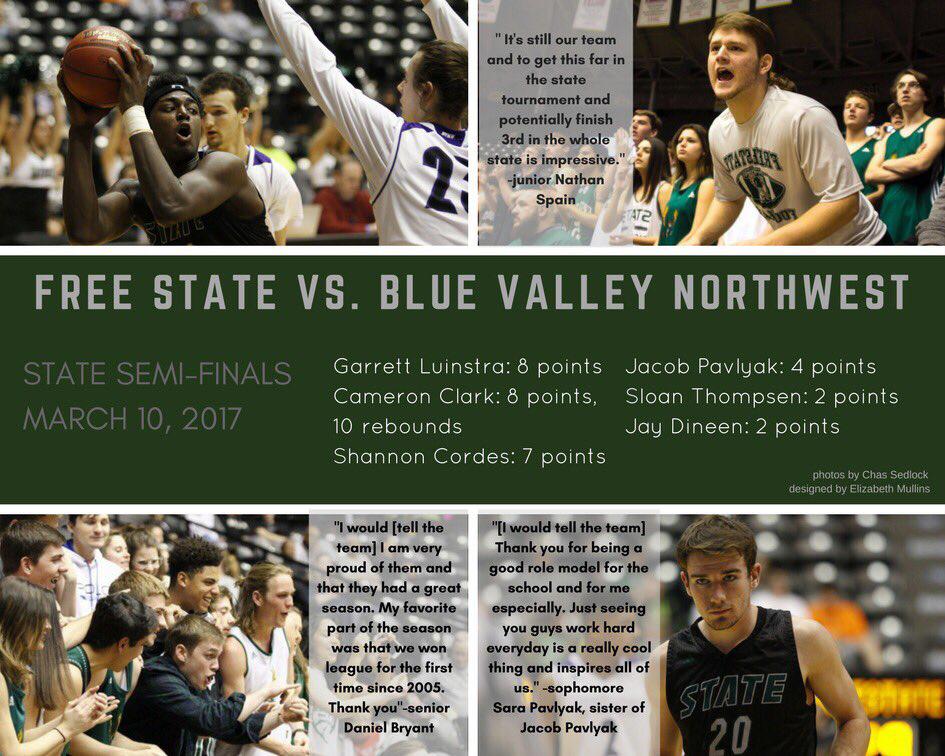 Elizabeth Mullins
After finishing the game on the bench, seniors Jacob Pavlyak and Jay Dineen hugged it out and formed a line to sing the alma mater in front of a sizable Firebird student section. Stroh only had positive words in regards to his players after the game.
"I'm proud of them. [They're] one of the best teams in [Free State] history," Stroh said. "[The] program is headed in the right direction."
The Firebirds have one final chance to finish strong in a game for a third place state title against Blue Valley North today at 2:00 p.m. at Koch Arena.
Leave a Comment