Sophomore football recruit receives offers from prestigious schools
When sophomore Turner Corcoran walks into a room, it's easy to see why he's on track to become the most highly touted football recruit in Free State football history.
The 6'6", 285 pound offensive tackle—who is built more like a Coke machine than a 16 year old boy—has received scholarship offers from prestigious college football programs such as Notre Dame, Nebraska, Wisconsin, and the 2015 National Champion Ohio State.
"I think mostly everyone saw this coming," senior offensive guard Gabe Clark said, "He has always been bigger than everybody, so our O-line saw it coming. We see potential in him and his athleticism."
Clark, who is set to attend the University of Central Missouri to play football, played left guard last season for the Firebirds. The play of himself, Corcoran, and other offensive linemen such as junior Shane Skwarlo and senior Jalan Robinson, were a driving force in the Firebirds 10-1 season.
The 6'5", 270 pound Clark claims he and the rest of the offensive line have seen potential in Corcoran since his freshman year.
"After he got moved up freshman year to varsity, that was a big step," Clark said.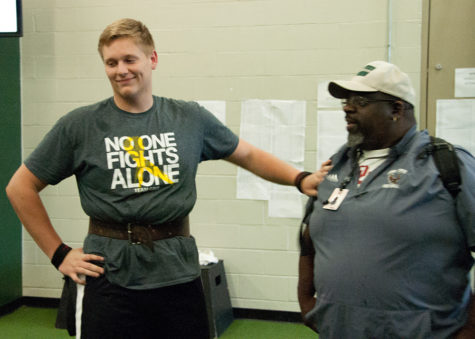 Due to his size and athleticism, college programs have had an eye on Corcoran for just as long.
"It kind of started out with freshman year," Corcoran said. "[Kansas assistant] Coach Bowen came and introduced himself to me. Fast Forward to now, about a month or two ago Kansas State offered [me a scholarship], and that was big,"
Corcoran received early offers from Kansas State and Iowa State before he started to get attention from bigger schools in late April.
On April 21st, Corcoran went up to South Bend, Indiana to visit the historic Notre Dame campus. During the visit, the Fighting Irish staff put him in a uniform and got him close seats to view their spring game.
"It was something else, the environment, the tradition they had, everything was rich up there. Their coaching staff was great I liked them, they liked me," Corcoran said.
Four days after returning from South Bend, Corcoran received a call from members of the Notre Dame coaching staff and they informed him that they wanted to offer him a scholarship.
Corcoran said that college coaches want potential prospects to pass an 'eye test,' meaning they want to see the player in person and see if they are actually their listed height and weight before offering a scholarship. Needless to say, Corcoran passed Notre Dame's eye test.
"Their coaching staff was great. I liked them, they liked me. I really liked Coach Quinn, their offensive line coach. It was all smiles," Corcoran said.
This offer lit a fire, and within six days Corcoran received scholarships from Nebraska and Ohio State.
"I had a talk with Ohio State during my first hour, I stepped out of class," Corcoran said. "He told me they were offering me [a scholarship], and I was kind of just stunned. I called him back later that night just to figure out stuff with my parents."
Corcoran has also received offers from Wisconsin, Missouri, and Kansas in the past month. He is already ranked in the top 100 players for the class of 2020, per 247sports.com, and is the number 1 player in the state of Kansas. He credits his dedication in the weight room and on the field for his rise in the rankings, and says he's far from done.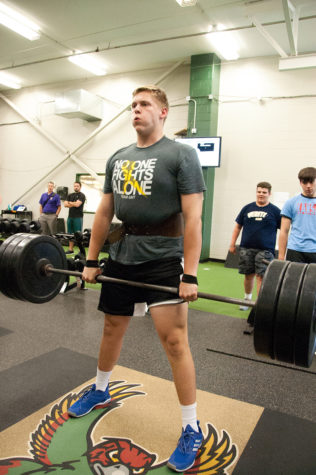 "[I] definitely [want to] get to 315 on bench, being the max, maybe more," Corcoran said. "I see a lot of players get 600 on squat and that's probably a good goal before I go to college."
Corcoran is well on his way to becoming the most highly regarded football prospect in Firebird football history. Few players are talented enough to hold multiple Division 1 offers so early in their high school career.
His main competition for best college football recruit in school history is Christian Ballard, an alumni from the class of 2007, who played for the University of Iowa before playing three years in the NFL for the Minnesota Vikings. Prior to Ballard's senior season for the Firebirds, he was listed amongst the Rivals.com top 100 players, and was the number 4 tight end prospect in the nation per Sports Illustrated. He held scholarship offers from schools such as Oklahoma, UCLA, Kansas, and Florida State before committing to Iowa.
Despite all the pressure and expectations, Corcoran remains humble, knowing well he still has two more years of high school football ahead of him.
"You have to focus about the task in front of you, moving the man in front of you from point A to point B," Corcoran said.
Leave a Comment