Thespian float makes spectators fall in love
Last year, Thespian Club was awarded best float.  This year did not disappoint.
"Since the theme is the year of love, which is the theme for all out shows this year, we decided to decorate our float in a way that represented that," sophomore representative for the club Eliza Haase-Divine said. "We also advertised our upcoming musical and thespian club itself."
With the red, white, and pink balloons blowing in the wind, candy in hand, and streamers dancing in the float's wake, Thespian Club succeeds in catching your eye. The float sets itself apart from the rest of the captivating parade due to welcome energy and friendliness.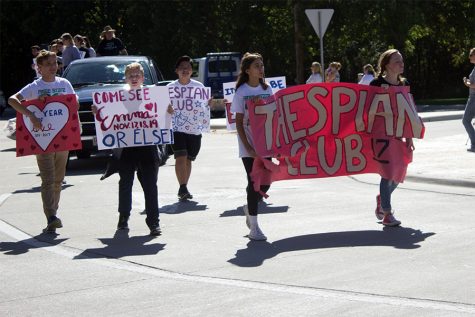 The theatre program at Free State is doing a year of love as Haase-Divine said. A Night of One Acts kicked off the year, illustrating love through different age groups. Emma! A Pop Musical will premiere in November, as advertised by the float.
Anna-Maya Hachmeister
Leave a Comment