Club Profile: Ascent
Ascent Club promotes female and minority representation in STEM field
Providing helpful connections and resources to students, Ascent Club is an all-inclusive space to learn about Science, Technology, Engineering, and Mathematics. Based off of student run projects, Ascent aims to give students hands-on experience with important aspects of the STEM field.
"Ascent stimulates diversity as well as getting students involved in STEM before college," junior Riddhi Duvvur said. "All projects are student run, so Ascent provides a lot of first hand exposure."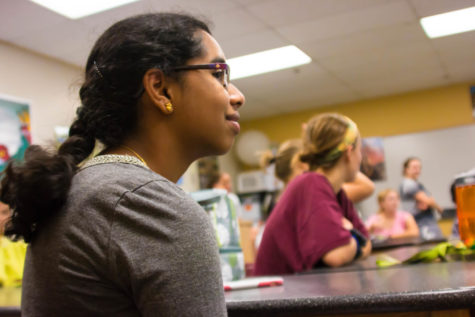 Ascent has collaborated with various businesses, such as Westar energy, and Kansas University School of Engineering. The club goes on field trips to many destinations which give an inside perspective on careers within the science field. In the past, Ascent has gone to the University of Kansas School of Engineering to look at their human-like robots. Ascent provides an opportunity for students to build helpful relationships with actual professionals of STEM.
"Ascent is a good opportunity to work on a big project with people who share similar interests," sophomore Rebecca Feng said. "We contact people outside of school who work in companies to help us with our projects."
While working to install a wind turbine on campus last year, Ascent traveled to Kansas City and Lawrence High to give presentations over their student-made plan. Westar Energy offered to fund various aspects of the project, planning for the structure to be much bigger than the club had anticipated. After much effort, Westar informed Ascent that the project was no longer feasible, forcing them to cancel the project.
"We are not exactly sure what happened, only the district and Westar were communicating," sponsor Julie Schwarting said. "They wanted to make it a larger project, it got out of control and Westar ended up backing out."
This year, Ascent aims to install solar panel on campus, aiming to use a source of renewable energy to fuel the school. A field trip to Johnson County Community College earlier this school year allowed the club to look at the university's solar panel tables for inspiration.  
"I chose to join because it is a good opportunity to learn about the STEM field and have more connections within it," junior Sivani Badrivenkata said. "The club has a specific focus on minorities, and I thought that would be a good fit for me."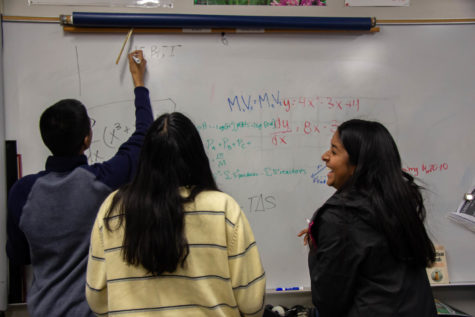 Along with unique learning opportunities, Ascent provides support for marginalized groups. These opportunities are significant for those within underrepresented demographics, as minorities often struggle to maintain a voice within STEM. The field is predominately made up of white males, leaving out women, people of color, and people within the LGBTQ+ community. Ascent creates an open space for all groups of people to explore STEM together.
"Many minority groups struggle with different representation issues," Badrivenkata said. "We want the majority groups to help, assist and celebrate the minority groups within the STEM Field."
Striving to bring different demographics together, Ascent encourages everyone within the field of science to support those who are underrepresented. The recognition Ascent provides to all groups brings those interested in STEM together to use their different perspectives to find solutions for challenging problems.
"My favorite part of Ascent is getting to talk about science and its creative applications,"  senior president Arnav Rashid said "It goes beyond textbooks and formulas to connect science to advocacy."
Design: Emma Nelson; Photos: Anna Riley