FEATURE: ChatGPT creating conversation inside classrooms
Rising artificial intelligence ChatGPT impacts learning in classrooms
In the pinch of needing to meet an essay deadline or finding starting points for an assignment, many students have begun to rely on the rising AI-Powered chatbot, ChatGPT. 
ChatGPT, developed by the research and deployment company OpenAi, is an artificial chatbot that launched in Nov. 2022. The model generates text responses based on the user's input. The responses are based on information from websites, books, news articles and more. 
For many students, ChatGPT is a tool for finding starting prompts, reading information or getting inspiration on assignments. Junior Yejun Yun said he uses the chatbot academically to follow up on additional information for classes, but not using it as a starter beforehand.
"If I was in a class and there's something I want to follow up on [that] the teacher said, I ask that question to it and normally it can give me a separate explanation so I can learn at my own pace," Yun said.
As for teaching, English Department co-chair and teacher Kylee Johnston uses the bot as a research engine to find examples in the midst of lesson planning, and has created examples of satire for students while writing satire essays.
"It was nice to be able to put in a prompt like 'write a satire on capitalism' and just see the format and tone of those types of things," Johnston said.
As of now, ChatGPT is blocked on district-provided devices to eliminate students' temptation towards using it for plagiarism. Yun advocated for the site to be unblocked from the USD 497 computers, as he said it can be used as a learning resource.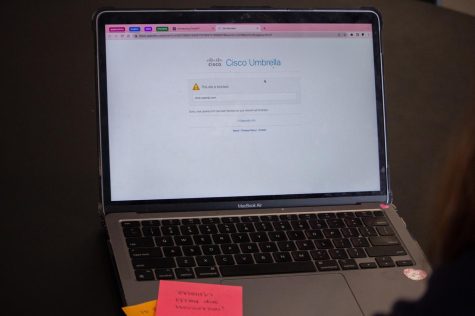 "The school should unblock it," Yun said.  "Especially for people who are best equipped to use it, they can use it to enhance their learning to a degree that wasn't possible beforehand."
Comparatively, English teacher Sophia Coen believes the site should be blocked because of its effects in the classroom ethically, but can also be used as a tool to develop discussions on technology. 
"It's fair to block it. We block a lot of sites; however, I do think that there are benefits if we embraced it a little bit more," Coen said. "Instead of blocking it and drawing attention to it, we could utilize it for academic purpose."
Furthermore, ChatGPT's popularity has sparked use through essay writing. Coen said that although essays are time consuming, they are an exercise in critical thinking, and she does not think letting a program do the work for them is ethical, nor will it create student success.
"What it delivers isn't an A paper in my class. It's barely even a -D paper. It's inappropriate for essay writing because you're not even going to retrieve the grade you want from that," Coen said.
To eliminate plagiarism in English essays, many teachers spend time using various plagiarism checkers during the grading process. For Johnston, she copies and pastes the student's text into a ChatGPT detector, which declares the work's originality on a scale from fake to real.
Additionally, in response to the rise in ChatGPT, Johnston envisions her english classes possibly moving towards writing more on paper next year to increase students' writing authenticity and basic english language skills.
"Students understand overall that writing well, reading well and speaking well is important for whatever they do… we're going to be tech free for a while to force ourselves sometimes to increase our brain power and ability to read, write and think,'" Johnston said.
Aside from ChatGPT's implementation in the English department, junior John Platkowski believes the chatbot is essentially a better version of Google for most academics, and has its benefits in the STEM field. Furthermore, he said AI will develop various career fields as a whole.
"It'll be vastly beneficial… it's going to at the very least make programming a lot easier, engineering a lot easier, math a lot easier, [and] scientific studies will be utilizing AI in the near future," Platkowski said.