Hometown Hub: Spring 2014 Concert Guide
Buzz Under the Stars:
$25 per ticket
ALL AGES
Doors open 6:00 p.m.
Wednesday, April 30, 2014
KC Power and Light District
60 E 13th St.
Kansas City, MO 64106
As the only relatively close music festival in Kansas, 96.5's Buzz Under the Stars offers a great lineup. Headlining the semi-festival is popular indie rock band Grouplove, known for their 2011 hit "Tongue Tied." Grouplove is notorious for their colorful, high energy performances. Neon lights fill the stage and melodic tempos infiltrate the audience, causing a riot of fist pumping and singing.
Special guest bands include New York indie pop duo MS MR. Infusion of electronic and pop scream MS MR, especially with their hit "Hurricane." While they invigorate the audience, their shows are intimate. Indie pop band Smallpools will also be taking the stage for Buzz Under the Stars. Smallpools can only be described as a mixture of Foster the People and fun. Their innovative lyrics and upbeat vocals are worth checking out, especially in their single "Dreaming."
Local Natives:
$23 per ticket advance/ $25 at door
ALL AGES
Doors open 7:00 p.m.
Friday, April 25, 2014
Granada
1020 Massachusetts Street
Lawrence, KS 66049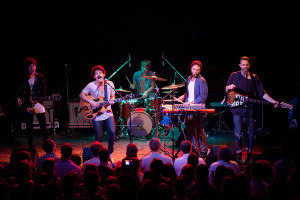 Indie rock music takes an art form when it comes to Local Natives. This Los Angeles based group is worth its hype, opening up for big names like The National and Arcade Fire, and is now doing their own headlining tour. With hits like "Breakers" and "Colombia," Local Natives has built up their fanbase to all age groups. Their soft harmonies accompanied by their captivating drums represent Local Native's ingenious sound. Their sound is exemplified in their intimate performances, showcasing their raw, natural talent. Opening up for Local Natives will be singer-songwriter Moses Sumney.
Arcade Fire:
$30-$60 per ticket
ALL AGES
Starts 7:30 p.m.
Saturday, April 26, 2014
Starlight Theater
4600 Starlight Road
Kansas City, MO 64132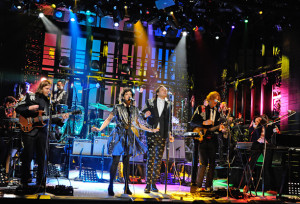 The Beatles are to rock n' roll as Arcade Fire is to indie rock. Formed in 2001, Arcade Fire was a developing project between college friends, but after their critically acclaimed, Grammy nominated album "Funeral," their music became the Holy Grail to all music junkies. Arcade Fire produced album after album, even winning Album of the Year at the Grammy's for "The Suburbs." Arcade Fire is back on tour with their latest album "Reflektor," and again, have received much notice for another well-crafted album. From hit singles like "Reflektor" and "Afterlife," it's plain to see that Arcade Fire is still a top contender in the music world.
Young the Giant:
$25 advance/$28 at door
ALL AGES
Doors open 7:00 p.m.
Wednesday, March 19, 2014
Arvest Bank Theatre at The Midland
1228 Main Street
Kansas City, MO 64105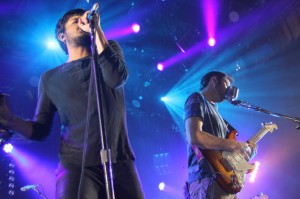 Another successful indie rock band will be making it's way to our neighbor state. Young the Giant is headlining their new tour with Vance Joy, Australian singer-songwriter. Their new album "Mind over Matter" is soaring on the Billboard Top 10 Alternative chart, as well as their single "It's About Time." Young the Giant is the epitome of excitement at their shows. Lead singer, Sameer Gadhia, can be seen soaked in sweat, jumping around with his band mates. With every beat of the drum and guitar rift, Young the Giant intoxicates the audience into a music euphoria.

Lorde:
ALL AGES
Doors open 7:00 p.m.
Friday, March 21, 2014
Arvest Bank Theatre at The Midland
1228 Main Street
Kansas City, MO 64105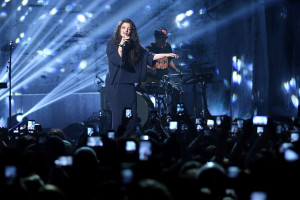 The Queen Bee and her royals are headlining their first show. 17 year old Lorde is stealing the spotlight in the music business, swiping two Grammys and receiving hundreds of other music nominations for her debut album "Pure Heroine" and catchy single "Royals." Lorde isn't afraid to dance to her music, but is often criticized for her exorcism-like moves. To see such a young, powerful artist would truly be a treat. The show quickly sold out, but second-hand ticket sites like StubHub are selling Lorde tickets for around $90.
Leave a Comment