Football for freshmen: an etiquette guide for students who have not yet attended a football game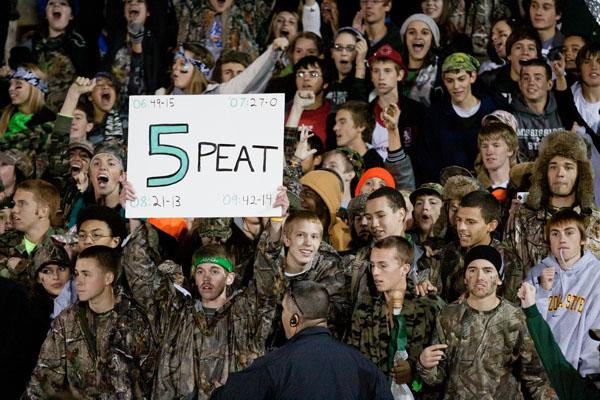 Nothing shouts, "Go! Fight! Win!" like chilly night air, a rumbling stomach and a football stadium so packed it could win a world record–but that doesn't mean a hot dog, a blanket and a front-row seat couldn't make those cheers a little louder.
For players, the outcome of the game depends on practice. For spectators, it's all about being prepared. For Firebird football rookies, here's the game plan for Friday nights at Free State.
Be fashionably early   
Seats and parking spots often fill up faster than the scoreboard does. Juniors Morgan Miller and Trust Marshall suggest arriving half and hour early–unless, of course, one's primary interest does not lie on the field.
"I don't really watch the games," Marshall said. "I use them as more of a social thing."
And for socializing, she added, there's no need to show up before kickoff.
The unwritten seating arrangement
The stadium is not a classroom: there is no carefully crafted outline that places so-and-so next to what's-his-face in the third row. However, there are a few guidelines to keep in mind while combing through the tiers of tan brick.
First and foremost, opposing teams sit on opposite sides of the stadium. Feel free to mingle, but don't venture too far into enemy territory.
Second, parents of players have VIP passes to the front of the stadium. It's a good rule of thumb to avoid standing between a mother and her son–especially when that son is being tackled by a stampede of teenage boys.
Third, though the best seats in the house are "towards the front of the student section, definitely," according to senior J.D. Prochaska, those are unofficially reserved for upperclassmen.
"Seniors are at the rail, standing," Prochaska said. Underclassmen generally fill in behind them. "Parents like to sit at the top of the student section."
But that's not to say all students like to see parents in their section. Since the stadium is often crowded, it is preferred that parents fill up the remaining six sections rather than hike up the students' 39 steps.
(See a former Free Press reporter's opinion on parents in the student section here: https://www.fsfreepressonline.com/opinion/2010/10/27/parents-in-the-student-section/.)
Befriend your local weatherman
High school football games run in the fall, that awkward season between 100-degree heat and sub-zero snowstorms. Knowing how to prepare for Kansas' weather is like trying to predict the next question on the MAP test.
The only surety is a Free State t-shirt. Jeans, shorts and jackets are never a bad idea.
Marshall also suggests wearing closed toed shoes.
"I run around a lot at games, and I'm not the most graceful person ever," she explained.
Running around or not, spectators should expect to spend much of the game on their feet, according to Prochaska. But in case hours of standing upright sounds exhausting, there are always the solid stone ledges that surround the field.
"Bring blankets, because the seats are not comfortable," Marshall said.
The other purpose of a blanket, of course, is to keep the audience warm. To further combat the cold, Miller recommends bringing instant hand warmers, which can be found across the street at CVS.
Food for thought
Yes, Orange Leaf and Smashburger are right next door. No, frozen yogurt and cheeseburgers are not allowed in the stadium.
That applies to all outside food and drink. Spectators can stop by the concessions stand for chips and a hot dog if they feel their tummies rumbling, but coolers from home are prohibited.
All proceeds from the concessions stand go to the school.
Everything in moderation…except cheering
As far as crowd participation goes, "there's no limit," according to freshman Justin Narcomey, who plans to play football for Free State this fall.
"Most people yell pretty much on every play," Prochaska added.
Just make sure the Free State side is actually yelling for Free State.
"Don't accidentally cheer for the wrong team," Marshall warned. "I've done that before."
That was at an early game in 2010, when Marshall was a new sophomore. She didn't have a football cheat sheet printed in her school newspaper.
But cheering too rowdily against the opposing team can be just as culpable as a "Go! Fight! Win!" in the wrong direction. Marshall recalls one game in which a Lawrence High School student approached the Free State section to provoke the high school rivalry. Eventually, security came to escort him back to the visitors' side.
Insults, Marshall affirmed, are not the answer to the question of competition.
"We just have to show them we're better by winning," she said.
First Firebird Football of Fall 2011
Team               Time            Date            vs               Location
Freshman        4:15 p.m.       9/1     Olathe South     Home
Sophomore      4 p.m.            9/1     Olathe South     Olathe South
Junior Varsity  10 a.m.          9/3     Olathe South     Home
Varsity            7 p.m.            9/2     Olathe South     Olathe South
See full schedule at http://www.highschoolsports.net/Month/Lawrence-Free-State-Lawrence-KS/All/All/All/2011/September/