Constant communication affects students, teachers in different ways
Cropping, editing and adding filter to her mirror selfies and singing videos, senior Marcya Floyd takes pride in her
Instagram with over 25,000 followers. While social media, such as Twitter, Instagram, Facebook and even Vine has seemingly devoured the lives of teenagers, but students use it for very different reasons, and some don't use it at all. It has birthed social movements, scandals and memes, meanwhile connecting people of all ages who live all over the world.
Floyd said she got a follower count of over 15 times the school's student body by "shouting out" other accounts.
"Sometimes I'll just be going through my timeline or on the ex- plore page . . . and if you shout this person out they'll shout you out," Floyd said. "So I did that and then got followers."
While freshman Nicole Knapp has over 1,000 followers, to her the number of followers doesn't matter.
"I follow who I know and what I'm interested in," Knapp said. "I don't try to make sure that I have this many followers."
Agreeing with Knapp, freshman Jack Kallenberger is not con- cerned with how many followers he has, but how many likes his posts receive.
"I like to have a large number [of followers]," Kallenberger said. "It's not too important but I guess the more followers you have the more favorites or likes you'll get whenever you tweet or post any- thing, so I like that."
Despite spending an average of five hours a day on social media, Floyd says she doesn't let it play a huge role in her life.
"I'm just a picture person, so I love Instagram, but I don't think it really takes over my life," Floyd said.
After growing from 400 to 2,000 Vine followers in a mere matter of days, senior Nixi Swedlund realized that having a large number of fans meant having people who didn't like her posts.
"I got a lot of haters," Swedlund said. "I kept growing steadily because once you get more popular, more people notice you."
"I don't put off a fake persona," she said. "My vines are dumb, a
lot of them are just me laying in my bed and saying stupid things and dancing. Theyre just me being an idiot . . . People think I'm stinkin' cute and I'm funny, and that's fun."
However, Swedlund says even if she didn't have a large number of followers, she would still keep her presence on Vine.
"I don't do it for other people because when you start creating art for other people then you need to be inspired by yourself, so I try to make things that I like," Swedlund said.
---
Antisocial Media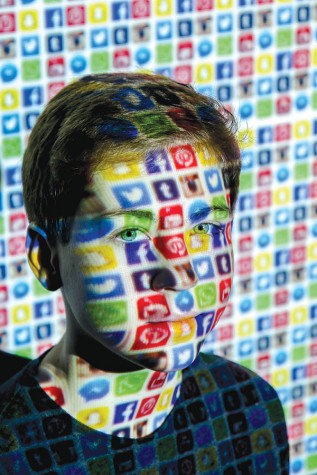 Some students haven't fallen into the traps of social media and don't spend their time refreshing Twitter or Instagram. It may seen that students who do not have social media are few and far between, but those who choose to stay off social media find it beneficial.
While junior Harrison Heeb sees upsides to having social media, he chooses not to partake in it.
"I think it's a good way to express yourself and it's a good place to store memories and thoughts that you want to share with other peo- ple," Heeb said. "But I also think it's very distracting and it's a place for arguments and negative thoughts as well, which are not good."
Because social media has become such an important part of modern life, English teacher Sam Rabiola said he's seen how distracting social media can be for both teens and adults.
"They are more concerned with checking on and wondering about and thinking about what their peers are doing than the task at hand," Rabiola said. "And I'm not saying even just at school. They're not experiencing life. They're always somewhere else, and I think it's troublesome for individuals and a culture as well."
As teens grow and discover what they're interested in, social media will become less of a factor in their lives senior Jessica Vanahill said.
"Since social media is so expansive, as people find their niche in the world they will start using social media less," she said.
Vanahill used to have several social media accounts but deleted them several years ago.
"It's definitely overused," Vanahill said. "I think it's very valuable to step away from social media."
Having deleted his social media as well, Heeb feels it was distracting from other aspects of his life.
"I've been trying to eliminate all distractions from my life lately," he said. "I used to use social media. I just didn't find it very fun or useful."
Students who have never used any of the more common social media sites–Facebook, Twitter, Instagram and Snapchat–also see the downsides.
"For example, for some people it might become too big of a part of their life to the point where it overpowers communicating with people in real life," freshman Ethan Carroll said. "Also, it provides that anonymity in certain cases that some people could take advantage of."
Carroll currently only uses Tumblr, but he may consider trying some of the more popular sites in the future.
According to Vanahill the main reason for deleting her social media ac- counts was the permanence of everything she posted.
"I'm very intimidated by that and I don't want to try to put things about my- self online, even my opinions or something, because I feel like they'll change," she said.
Social media repels some because it is so time consuming, distracting and permanent. Rabiola described the large-scale effects it may have on society.
"People oftentimes put their best selves forward," Rabiola said. "That's part of their lives, but it's not all of their lives, so people start trying to live up to that and they can't. Then, they start thinking, 'I need to be doing this,' 'I need to
be perfect at everything' and I think it leads to some of the anxiety we have, is trying to live up to that."
---
Teachers React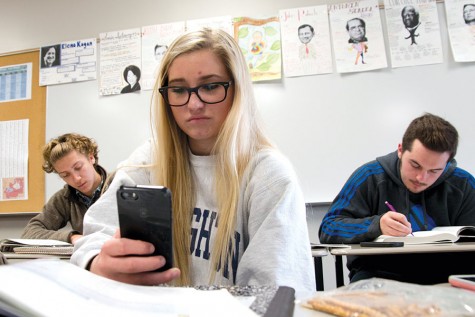 Though teenagers are most often associated with social media, the number of active teachers on social media has grown. CTE teacher Nolan Henderson uses Twitter to communicate with his students and post assignments.
"I'm human, just because I'm a teacher doesn't mean that I shouldn't get to use social media and express myself like others," Henderson said. "It's very easy to post assignments and links to other things for my students."
Other teachers, like English teacher Elaine Elliott, use Twitter to post pic- tures of dogs and micro pigs, and the occasional selfie.
"I share my Twitter account with students because it was started to com- municate practice times with softball players," Elliott said. "I treat Twitter very much as an extension for work."
Social studies teacher Adam Leitel tweets about his dog, the Lakers basketball team and happenings within the school.
Because students and teachers are now able to see more about each other through social media than ever before, awkward situations may arise.
"It's not my job to [see] something negative or foolish a student says and bring it up in class and let that affect our relationship, I'm not about that," Henderson said. "However, as a person/parent who has a child and I'm trying to raise a child in this world effectively, you bet I'm judging you, and no matter what somebody tells you they are judging these things too."
Elliott said she tries to keep her social media positive and avoid Twitter drama.
"I try to not get into arguments or debates online because so much is lost in text," Elliott said. "Having discussions in person are far more valuable, personal interaction is a dying art. I would much rather engage someone in person."
Some students believe they can't get in trouble for what they post on social media. For teachers, that's not so true.
"I think [getting in trouble for a tweet] is always a concern," Leitel said. "You've got to be careful of what you're tweeting, especially from a professional account."
Teachers should be well aware of online boundaries according to Rabiola, who has a Twitter account he set up during a class and a Facebook account his daughter made for him.
"We all think we know what those [boundaries] are, but that doesn't mean that all individuals remember that, and that's been a problem before electronic devices," he said.
While he feels that social media has affected students' conversational abilities, Henderson said he still sees some positives.
"I do believe it has affected many young people's ability to have a conversation with people," Henderson said. "However, I don't see social media as a negative thing for young people. They get to use it for good, social movements and stuff. That can be very powerful and be a great instrument for change. Us older folks probably just need to get with the times a little bit and stop complaining."
Leave a Comment