Band students gifted new instruments, scholarships from Band of Angels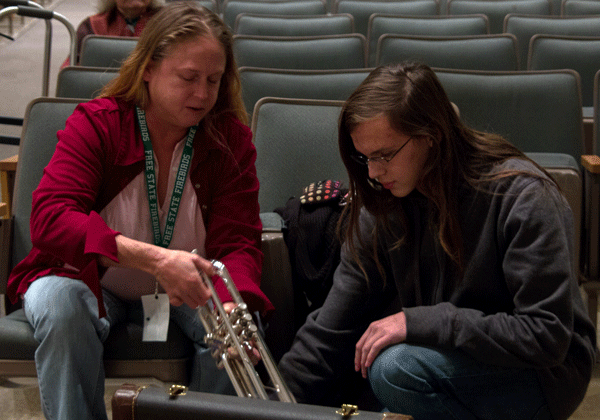 Marching into band class, junior Gabriel Leverette had no idea it was one of the last times he would play his old trumpet, the instrument he started with and played for the past five years.
"I never thought I would have enough money to get a trumpet on my own," Leverette said. "I'm just so happy with this."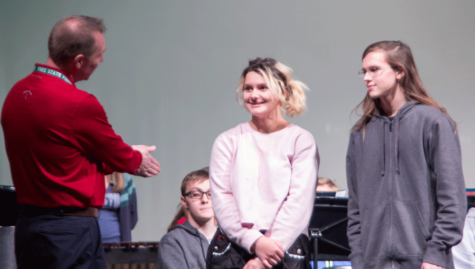 Leverette, along with sophomore Harlee Crossett, were surprised with refurbished instruments in front of both band classes Thursday afternoon. Band of Angels, a Kansas City-based charity for passionate, disadvantaged band students, provided Leverette with a new trumpet and Crossett a new flute.
Along with instruments, Band of Angels is also giving Leverette and Crossett full scholarships to any summer music camp of their choosing for the rest of their high school careers.
"It means everything to me," Crossett said. "This will allow me to go to a lot of places I might not [have been able to]."
Crossett has been playing the flute for as long as she can remember and hopes she can continue playing past high school.
"As soon as I picked up a flute," Crosset said. "I decided that this is what I want to do."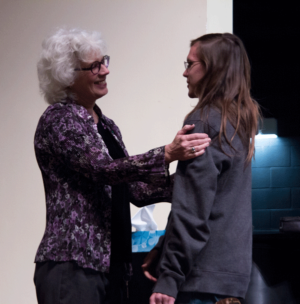 With only a recommendation letter from their band director Melissa Smith, the two students went through the Band of Angels application process on their own.
"
I just love music, it's a part of me now,"
— Gabriel Leverette
"We always feel a lot better when the student took the initiative to go home and fill out the application…and send it to us," Band of Angels chairman Mike Meyer said.
Meyer and his organization have collected and refurbished thousands of used instruments from around the Kansas City metropolitan area. Meyer believes the instrument donation program spreads a positive message.
"You don't have to be a millionaire to do something," Meyer said. "Everybody can do something, and we should."
Toting a new instrument and free tuition to any band summer camp in the nation, Leverette will continue chasing his passion for music and hopes to become a composer after college.
"I just love music," Leverette said. "It's a part of me now."
Leave a Comment