Firebird Fantasy: Week 1
Evan Cornell and Will Cook discuss their initial starts and sits.
Will's Starts:
Dalvin Cook: Check out this stud rookie. Playing for a team that relies heavily on the run-game, this is a solid start. This makes sense; look who is starting QB… Sam Bradford. I think it's a pretty safe bet to assume Cook will take on a lot of the workload in the backfield.
Todd Gurley: Facing the Colts this week, I strongly advise starting Gurley. The Colts were one of the worst defenses in fantasy last year, giving up the sixth most fantasy points to opposing RBs. Another positive for Gurley: Jared Goff is starting at QB. I would say Gurley is bound to get plenty of touches on the ball this week.
Will's Sits:
Mark Ingram: Once a for sure first round pick in fantasy leagues, this former Heisman winner has downgraded and has found himself on my sit-list. The Vikings allowed the eighth fewest points to RBs last year. Keep in mind that Ingram will likely see his workload decrease this year due to the addition of rookie Alvin Kamara from University of Tennessee and Adrian Peterson from the Vikings.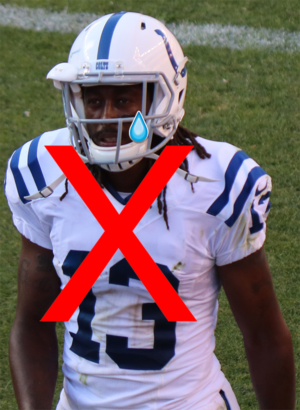 T.Y. Hilton: Andrew Luck is out for Week 1; Scott Tolzien is starting. He will be matched up against Trumaine Johnson of the Rams. Johnson had seven interceptions in 2015 and 58 tackles. Tolzien may need to be a little bit more worried than TY Hilton if he decides to "let it fly".
Evan's Starts:
Rams D/ST: My usual philosophy when it comes to defense is that as long as you don't have the Browns, you should be fine. There are sometimes some promising matchups, though. This week, Los Angeles will be opening their season against the Colts. Andrew Luck is still out with a shoulder injury, so Indianapolis will start backup Scott Tolzien in his place. In his six-year NFL career, Tolzien boasts a whopping 937 yards and a stellar 2/7 TD-INT ratio. Unless Tolzien is able to pull an amazing performance out of his bag of tricks, the Rams should have a field day on defense.
Kelvin Benjamin: Benjamin and the Panthers are looking to start a strong bounce-back season against the 49ers. The Niners were statistically the worst defense in the entire league last season, so they should give up a lot of points to the Panthers. Benjamin will be lining up opposite Dontae Johnson and Rashard Robinson for most of the game, so he should pile up targets and hopefully touchdowns. Overall, he faces the easiest cornerback schedule of any top receiver, so he is one to start every week unless he is injured or starts regressing.
Evan's Sits:
Joe Mixon: Perhaps the most-debated rookie running back this season, Mixon is currently listed as the third back on Cincinnati's depth chart. While he was highly regarded, aside from his off-field issues, Mixon is still a rookie. His teammates Jeremy Hill and Giovani Bernard both have more experience than him, and while his talent should allow him to rise to the top spot on the Bengals, Mixon will need some time to adjust to a new season. Wait until he shows some signs in-game to play him.
Dak Prescott: I will give Prescott major props, as this time last year he was just an unknown quantity. A year removed from potential Heisman hype, he was drafted in the fourth round by the Cowboys, and was forced into the starting job when Tony Romo was injured before the season. He took over, had an amazing rookie year, and now Romo is a broadcaster. With the amazing rookie season he had, Prescott now faces a lot of pressure to repeat his success. I am not confident that he will be able to do so, especially against a fierce Giants defense. Even with Ezekiel Elliott able to play Week One due to his confusing suspension situation, I expect Dak to have a poor performance.
Leave a Comment