Nerve-Racking City Showdown Completes an Undefeated Season
When junior kicker Kameron Lake lined up for the potential game winning field goal, there wasn't much that was not on the line.
Not only would this kick win the game versus crosstown rival LHS, but it would also complete Free State's undefeated season, and ensure the Firebirds the No. 1 seed in the state playoffs.
Thankfully, this wasn't Lake's first high pressure situation. He also drilled the game winning kick versus Washburn Rural in a playoff game last season. This kick had the same result, and Free State won 24-21.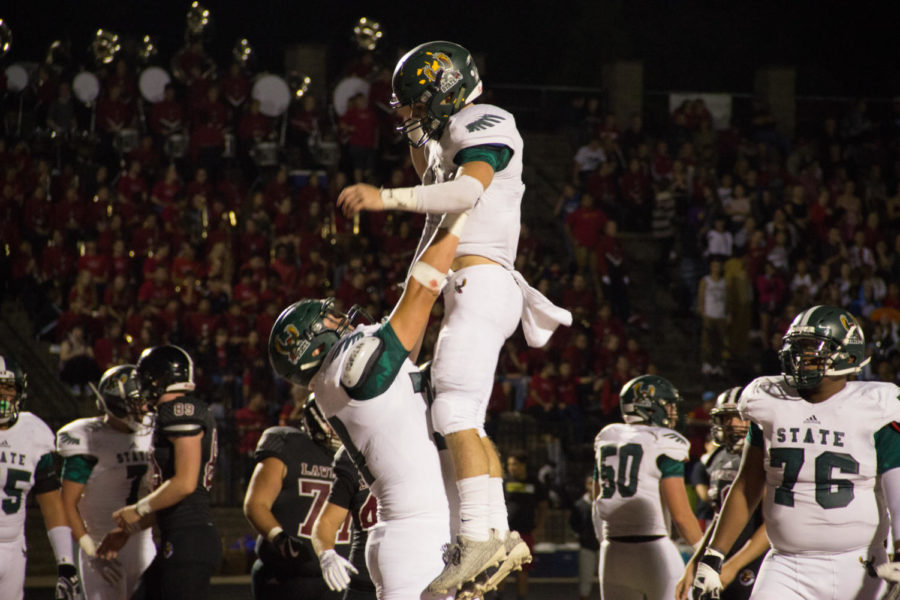 The Firebirds never had a particularly comfortable lead throughout the game, and the Lions fought and clawed their way to tie it up at 21-21 with two fourth quarter touchdowns. In the first half, center Ben Holiday went down with an injury in what proved to be a pivotal event. Defensive tackle Nathan Spain was forced to play both center and defensive tackle the rest of the game.
"When Ben went down, we needed [Spain] to step into that center position while he also played nose tackle on defense, so I'm sure he was drained of energy," sophomore tackle Turner Corcoran said, "but he came in very clutch."
"
Finishing undefeated is something I never thought of,"
— Bo Miller
While the offense, lead by Jax Dineen and Gage Foster, grounded and pounded their way to three touchdowns, the defense was tasked with chasing around the Lions dual-threat quarterback Dante Jackson. Jackson ran for a touchdown and also passed for one. Senior linebacker Bo Miller thought his unit was successful in containing Jackson.
"We had a big role to fill keeping Dante contained. We definitely held him to a lot less freedom than he normally has against other teams," Miller said. "We hit him hard repeatedly and he got up dazed after a majority of them."
After the Free State defense barely stopped the Lions offense with 29 seconds remaining in the game, the Firebirds had a chance to get into field goal range for a potential game-winning kick.
Gage Foster completed two beautiful throws to Jake Rittman, and suddenly, the Firebirds were in field goal range. After a timeout, Dineen had a long run to get even closer. Lake converted the 28 yard field goal with one second left, and the Firebirds celebrated.
"Finishing undefeated is something I never thought of. One thing we always knew was that we had great athletes and good team chemistry," Miller said.
The Firebirds face Wichita North in the first round of the playoffs on Friday at home.
"We seniors know that if everyone focuses and does their job, we have a good chance to make it to the championship game," Spain said. "For this first game, we are just trying to get back on our game. We haven't done so good these last two weeks and we just need to get back to what we know."
Leave a Comment