Game of the Week: Firebird basketball tops Lions 56-49
On February 22, 2013, Chuck Law's Firebirds beat the Lions by a score of 44-38. It was not until nearly five years later, on December 15, 2017, that the Firebirds would beat Lawrence High School in basketball again at Allen Fieldhouse.
Seniors Garrett Luinstra and Jalan Robinson were in seventh grade on that day in 2013, probably watching the game from one of the top rows of the Free State gymnasium. They probably didn't think they would be the leaders of the next Free State team to beat LHS.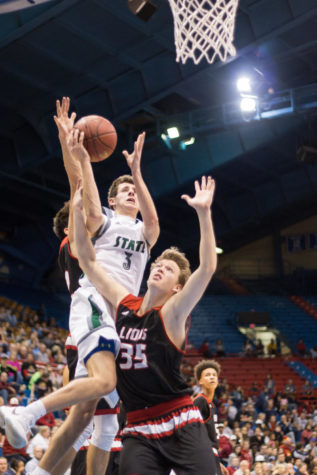 "It definitely feels good because most of us have been together since freshman year," Robinson said. "So it's special to see the work we have been putting in pay off."
There were a couple of key matchups on Friday night for the Firebirds. Junior Noah Butler, who played for Lawrence his first two years before transferring, played in his first City Showdown wearing green.
"I kinda just thought of it as another game," Butler said.
When Butler's name was announced as a part of Stroh's starting lineup, the LHS student section held up a sign of Butler's face edited onto Golden State Warriors' Kevin Durant's body. The photo was from Durant's announcement that he would be leaving the Oklahoma City Thunder for the Warriors.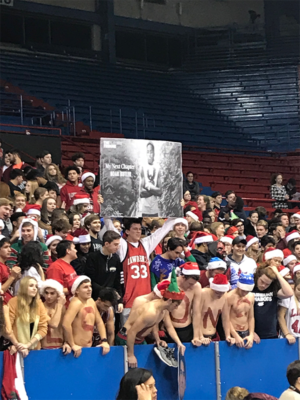 Butler was tasked with guarding the Lions' Anthony Selden, a human pogo stick who bears a striking resemblance to his older brother Wayne Selden Jr. of the Memphis Grizzlies.
Another crucial matchup was the one in the paint. Robinson, a refrigerator with legs and surprisingly quick feet, guarded Lions junior Brett Chapple, a rebounding machine with a childhood nickname of "meat hands," a moniker given because of his ginormous hands.
"It was fun, for me at least," Robinson said. "Me and Brett are great friends off the court so we joked around a little bit."
The Firebirds got off to a rough start offensively. It wasn't until senior Bansi King tied the game up at 16-16 in the second quarter when the boys finally got some offense going. Free State went into halftime with a 22-20 lead, after a putback at the buzzer from senior Reece Downing.
Butler, Downing, and the rest of the rotation knew they had momentum going into the second half, and they came out firing.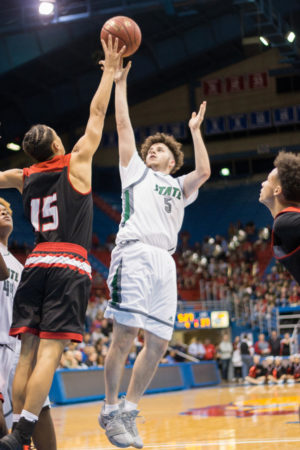 Both sides traded buckets in the third quarter, and King again sparked a fire on offense, hitting three-pointers on consecutive possessions to give the Firebirds a 34-30 lead. The lead was extended to seven heading into the final quarter, and later into double digits.
Clutch free throw shooting from Luinstra helped close the game out, and the Firebirds won 56-49. The student section swarmed Robinson and the rest of the team after the game, the first win against LHS in over four years.
"Coach Stroh talked about how it's good to get this weight off our shoulders," Robinson said. "And change up the culture a little bit."
Leave a Comment