Students sing the praises of new choir teacher
Joshua East joins fine arts program.
Joshua East is the latest addition to the fine arts program. Working beside Olivia Henning , East co-teaches the performance choirs and is the lead teacher for Chamber choir.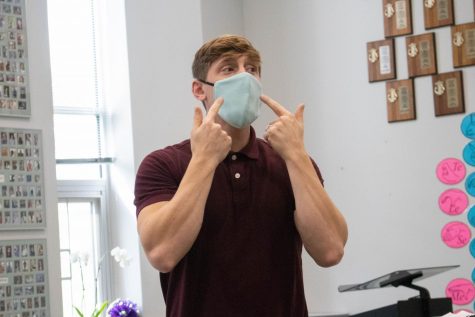 East started his career in choir at Overland trail middle school in the Blue Valley school district. After three years there, he started working at Olathe West High School. Eventually, he ended up at the University of Connecticut and earned his masters degree, before finally arriving in Lawrence for his tenth year of teaching.
Since arriving, East said that he has had a pleasant experience getting adjusted to the new schedule, adding that the only difficulty for him and his students have been the overlaps.

Another struggle East has had was getting his students used to being back in person after a year of online choir.
"Our expectations for what choir should be were challenged during that time," East said. "At least we're back. I have really high hopes for what's next."
It looks East isn't the only one with high hopes. President of Chamber Choir, senior Ezra Joseph says that he thinks his new teacher is doing a fantastic job.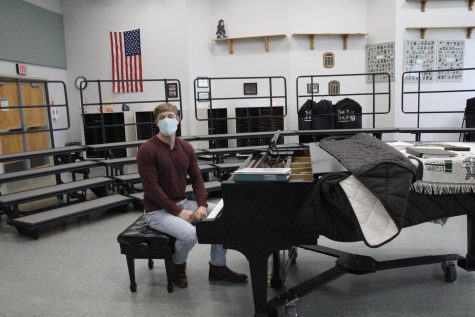 "I think [Mr. East's] energy along with Mis. Henning and Mr. Piontek has been really great," Joseph said. "He's very talented and obviously very good at what he does. I'm super excited for next year."
Joseph's terms of endearment were reciprocated by senior Molly Roecker, who is  in the junior/senior Aurora treble choir. Roecker says that East can be very encouraging and that she can always tell that he's smiling under his mask. 
"Choir can be a pretty vulnerable activity," Roecker said. "It always felt like this space was super safe to make mistakes. He helps us figure out how we can improve without being condescending. "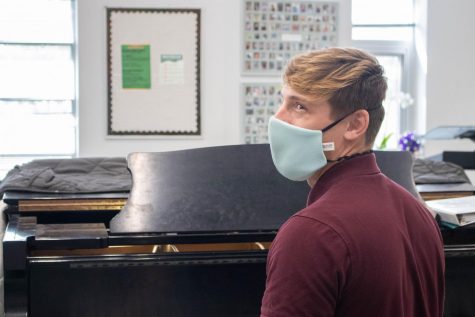 When asked, both students said that they were really looking forward to working with East for their last year of high school. Roecker said that she can't wait to learn from East's experience in music.
East said that students who are either afraid to try out, or unsure if choir was for them, should go for it.
"You don't have to know anything, we can teach you," East said. "That's our job. We love when students have the spark of wanting to learn how to sing. That's what we're here for. "  
Leave a Comment