Community members protest Burger King after senior's controversial firing
Editor's' Note: We have replaced the use of a racial slur in the following story.
Having a job is not unusual to a lot of students, but few expect to work under a supervisor who casually uses racial slurs on social media. For senior Orandae Wilson, this was what being a black employee at the Bauer Farm Burger King was like.
Protesters gathered in the Burger King parking lot on October 18 for six hours in support to this student's dismissal after calling attention to his manager's racist comments on Facebook. Wilson reported his manager Cindy Andersen, who had posted a video on Snapchat where she replaced lyrics to a song with the n-word.
"
I would not be working there if [Andersen] was there."
— Orandae Wilson
In the video, Andersen sings along to "Started With a Beer" by the Redneck Souljers. The song is about drinking and driving while running over animals such as deer and opossums. Andersen proceeds to replace the word "deer" with the racial slur.
Wilson reported it to his management and eventually it got to the the general manager of the location. Wilson approached his managers with an ultimatum because he did not feel safe working with Andersen.
"I had told my assistant manager that I would not be working there if [Andersen] was there," Wilson said.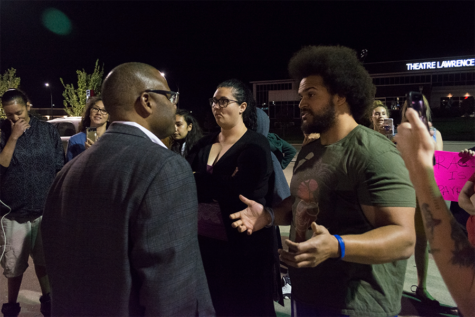 Later, Wilson was sent a text from general manager John Dayton.
"I seen the text message you sent to Adrienne. I wanted to talk with you before you leave. So anyway Cindy is staying. Since she staying and your text message said you're quitting. Please return any uniform. Thank you – John."
After posting the Snapchat and messages from his manager on Facebook, Wilson's situation attracted support from the community. Wilson's posts also attracted racially-charged threats from Andersen's boyfriend, Tucker Meyer, on Facebook.
"
the fact that her boyfriend made indirect lynching posts was just outrageous to me."
— Orandae Wilson
"I always got a rope in my truck incase [sic] I need to hang some [n-words] now try me," one of Meyer's Facebook posts read.
Andersen had also posted statuses about "busting people's heads open" after her video gained more attention.
Wilson was shocked by the threats aimed at him and the black community.
"I've dealt with discrimination in Lawrence," Wilson said. "But never hardcore racism and the fact that her boyfriend made indirect lynching posts was just outrageous to me."
Wilson's family and friends started the protest to demand whatever changes he felt necessary. Although Andersen left Burger King on her own accord before the protest, Wilson and the protesters agreed Dayton should have chosen to keep Wilson instead of Andersen. Wilson was pleased with the turnout.
"The protest went very well," Wilson said. "[The Burger King management] kind of tried to backtrack and give me another job somewhere else, but eventually they got over that."
Wilson eventually received his initial job back.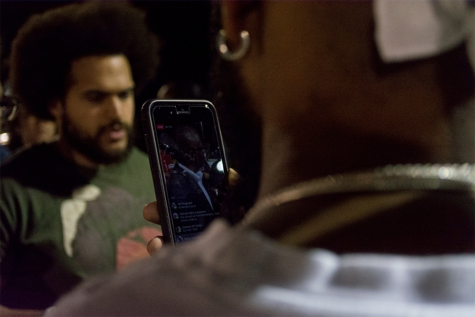 Sophomore Ashton McKnight, who attended the protest, relates closely with Wilson's situation. Her brother, a Free State graduate, had worked at Burger King and witnessed discrimination there.
"There was a manager who would refer to the black workers as the n-word with a hard 'r' on the regular," McKnight said. "[My brother] reported it and nothing was done, so he quit because he didn't want to deal with it anymore."
During the protest, a few customers that came to the store were angry the protesters were blocking the drive-thru. Some tried driving through the crowd.
"I almost got hit by a car twice," McKnight said.
Later in the night, several trucks with Confederate flags and cameras attempted to cause a disturbance by driving by the protest and spinning their tires.
Some who opposed the protest believed that because the video was made away from Burger King, it should not have affected Andersen's job. For Wilson, whether Andersen's remarks were made on the job or off did not make a difference and created a hostile work environment.
"Whether you're on the work property or not you still represent your company," Wilson said.
The protest drew the attention of Burger King's area director Anthony Robinson who responded to a call for assistance at the location. Robinson arrived a few hours into the protest. Protesters tried to persuade him to hold Dayton accountable.
"
I feel like the experience strengthened [my] journey of becoming a man,"
— Orandae Wilson
The day after the protest, Dayton was terminated from his position for not following Burger King's policy according to Robinson.
"[Managers] reported it to [Dayton] and then everything just stopped for 24 hours," Robinson said. "Our policy is that when something is reported it's supposed to be reported to [Human Resources] so we can investigate, but [Dayton] was trying to collect more evidence and that's not his job."
Andersen and Meyer have moved away from Lawrence. Their current whereabouts are unknown and their Facebook pages are no longer active.
"I feel like the experience strengthened [my] journey of becoming a man," Wilson said. "There are a lot of young African American men that wouldn't have handled it the same way."
Leave a Comment