District hosts second Community Conversation, administrators absent
Around 50 students, parents, teachers and staff packed the auditorium at the Lawrence Public Library on Dec. 14 for a Community Conversation. It was the second of two opportunities for community members to provide input on issues marginalized students and their families face in local schools. The event opened with interim superintendent Dr. Anna Stubblefield citing district accomplishments since the conversation last January. A new set of district LGBT building guidelines and the creation of the Special Education Parent Advisory Council were among the accomplishments listed. Comprehensive notes from the meeting can be found here.
While many schools were represented by parents, students and teachers, there was a noticeable absence of Free State building administrators. Head principal Myron Graber and assistant principal Amy McAnarney cited scheduling conflicts the same evening. Associate principal Steve Heffernan and assistant principal Mike Hill did not know about the meeting until the day afterwards. Assistant principal Linda Boyd gave no comment.
Heffernan was unsure as to what his role would have been as a school administrator if he had attended. Assistant principal and athletic director Mike Hill stated that if he had known about the meeting, he possibly would have attended, but it would depend on the subject matter of the conversations. Both assistant principal Amy McAnarney and Hill agreed community feedback is important.
Building level administrators were not required by the district to attend, but some chose to according to communications director Julie Boyle.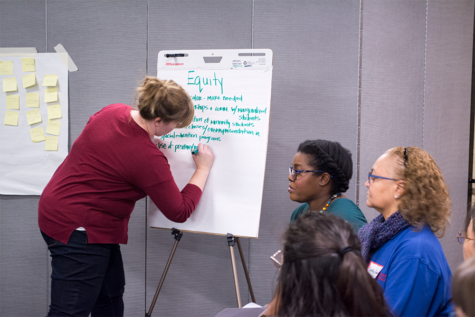 Senior Taylor Royal attended the first conversation last January and was present for many of the bi-weekly board meetings last school year. At the December Conversation, Royal felt her interests about district equity finally being addressed.
Because of her regular attendance to district meetings, Royal has developed close ties with board members and feels comfortable speaking to them about her concerns directly.
"I have gotten a little bit of closure," Royal said. "But me being a senior, I'm not going to be on the frontlines to experience what's happening right then and there."
"
I'm not going to be on the frontlines to experience what's happening right then and there,
— Taylor Royal
Along with equity policies, community members discussed how administrators can prevent cyber-bullying, the district hiring more teachers of color and how to close the achievement gap between white students and students of color.
Stubblefield assured attendees that notes from the meeting and topics discussed will be pivotal in upcoming district actions. The district plans on hosting another Community Conversation in the spring. An official date will be announced by the district through Skyward.
Leave a Comment