Math teacher Alyssa Barratt receives district level Horizon Award
Math teacher Alyssa Barratt receives Horizon Award and $250 check
Going above and beyond her fellow first year teachers, Alyssa Barratt was awarded the district Horizon Award for Secondary Teachers. Not all teachers have opportunity to receive this award—only teachers who display excellence throughout their first year of teaching.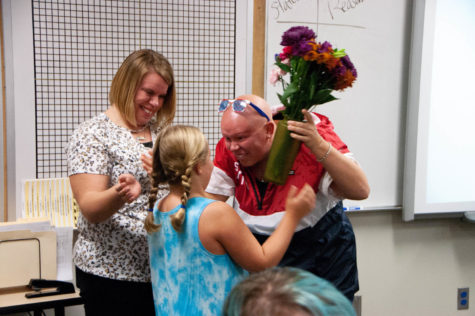 "Alyssa has showcased an incredible professionalism and maturity well beyond her years," principal Myron Graber said. "She has consistently exceeded all expectations of our profession, ready to strive for excellence for both her students and for herself each day."
The ceremony was held during Barratt's first hour class on September 17. 
"Everyone started walking in," said Barratt. My family was here, my parents, my sister and my daughter were here. People from district office were walking in and the other math teachers. There was even a group of students that I had last year that came and my whole first hour was there."
Barratt wasn't expecting to win this award, and wasn't even notified ahead of time that she had won it.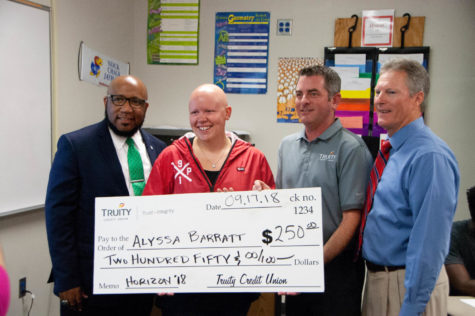 "I didn't have any clue it was happening," said Barratt. "I was blindsided in my classroom."
To win this award, teachers must be nominated by principal Myron Graber.
"Mr. Graber explained why they were there: because I had won the award and Doctor Lewis had some remarks to make from other teachers," said Barratt.
Within this award, one teacher wins at both the secondary and elementary level. On the elementary level, psychologist Cheyenne Hansen-Marlow from Schwegler Elementary School won.
Barratt has displayed many important characteristics of a successful educator. She is eccentric and supportive of her students in the classroom, making her stand out from her coworkers and ultimately winning her the award.
"I think she just wants everybody to do their best," freshman Audrey Cornell said.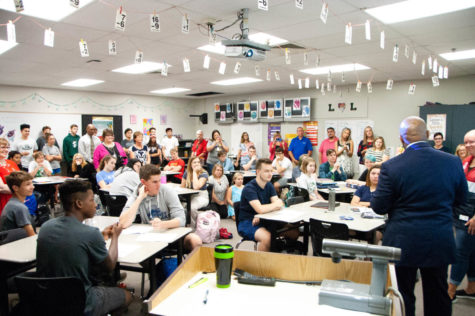 Now that she has been awarded by the district, she is striving for the next level of recognition, which would come from the state.
"I am in an application process now to try and win the next round which would be the regional and state level," said Barratt. "I will find out in February."