School board discusses reopening precautions, met with protests
Due to Covid-19, school reopening becomes an important topic in which many are getting involved.
On Monday night, the USD 497 School Board held a meeting to discuss how the district will adapt the 2020-21 school year to the current COVID-19 pandemic. In response, the newly-established Kansas for a Safe School Reopening organization formed a protest outside the district offices.
At the meeting, the Fall 2020 Planning Task Force presented their plans for opening schools while being as safe as possible. Changes included not sharing school supplies, pre-packaged lunches and requiring students and staff to wear a face mask. The task force reiterated that opening in-person classes is not the only option they are considering.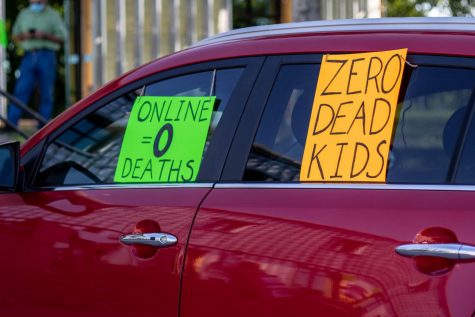 "At whatever point we return [to in-person classes], we know it won't be like it was before," Deputy Superintendent Anna Stubblefield said during the meeting.
Protest organizers emphasized social distancing and many who attended chose to stay in their cars. About 35 protesters gathered outside of the building and most of the parking lot was filled with those in their cars. Horns and chants filled the air throughout the evening.
Many people in attendance were teachers and community members that were concerned about the possibility of the transmission of COVID-19 in the case of in-person learning. They demanded that the district follow all CDC guidelines or have online schooling until there are no new coronavirus cases in Lawrence for 14 days.
Sandy Theilen, a special education teacher at Hillcrest Elementary, was present with her son. She believes the district's 1:1 device policy is a great asset. Theilen understands that online learning will be inconvenient, but when compared to the alternative, "[she doesn't] think it is worth the risk of endangering anyone's life."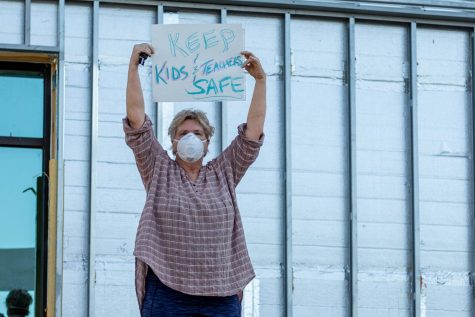 As a concerned parent and teacher within the district, Jamie Larsen helped organize Kansas for a Safe School Reopening. Larsen does not have any other safe job or childcare options if the district chooses to reopen schools. "Right now, our Douglas County death statistic is zero and I don't want that to be any higher," Larsen said.
"My greatest concern is prioritizing the health and safety of our staff and students while ensuring we continue to address the social and emotional needs of everyone (staff and students) and simultaneously providing a quality education during two pandemics (COVID & Racism)," Stubblefield said over an email correspondence.
The district has a meeting scheduled for July 23rd with the Kansas Department of Health and Environment, who is constantly monitoring cases in the state. At the next board meeting, which is scheduled for July 22nd, the task force will review schedule options. By August 1st, Stubblefield said that the board should "firmly" know what the best decision is.
View Comments (1)