Opinion: Team photo sparks anger
Football team post receives criticism from students, calls for compliance with COVID-19 recommendations
On Sunday, Aug. 16 the Free State football team posted a photo through the @freestatefootball Instagram account. The photo featured 29 players standing shoulder-to-shoulder without masks or social distancing measures. In an apparent reference to several surrounding school districts opting out of the 2020 football season, the post was captioned "#letthemplay."
By not wearing masks in the photo, the players were violating KSHSAA recommendations, local mask mandates and the Governor's Executive Order. It should be noted that the CDC has stated that masks, only when covering the mouth and nose and coupled with social distancing, are the most effective way of stopping the spread of the coronavirus.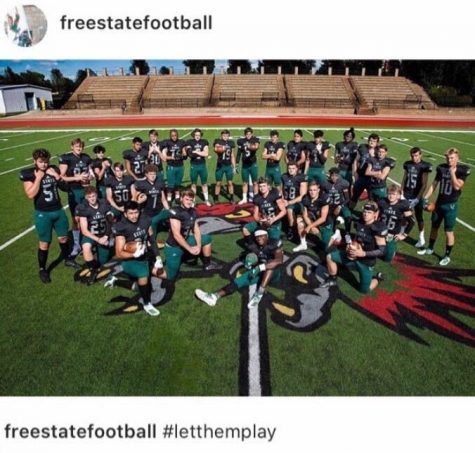 The post quickly attracted criticism on social media from a large number of Free State students. Many pointed out the fact that summer conditioning for the football team had already been temporarily cancelled after a participating athlete tested positive for COVID-19. Others called on the team to enact safer practicing methods to help decrease the spread of COVID-19 in our community, partially so that in-person classes can resume as soon as possible.
Shortly after the picture was posted on Instagram, the account limited who could comment on the post. After students began criticizing the post on their stories, a feature that lets users post photos and videos that automatically delete after 24 hours, the account responded  in the comments. 
"By the way, this was the one photo we took with our players with masks off. We are doing everything we can to be sure people are safe and so our players can play the game they're passionate about. We don't have them change in the locker room, but have them get dressed before practice. We have them wear masks. We will likely not have fans this year. To conclude, we are just trying to be safe and let our players play the game, with our safety precautions." 
When students pushed back against this excuse, the post was eventually deleted. The following day, the account began to block users that publicly and privately criticized the photo. It is unclear who is behind the account. 
Everyone knows that coaches not only improve the athletic skills of their team, but are also incredibly formative people in an athlete's life. If it wasn't a coach that took the picture and posted it, a coach had to have been present while a large part of their team took their masks off. If the team took other pictures with their masks on, one without face coverings is completely unnecessary. Why should parents trust their children to be alone with an adult that condones a complete disregard of safety? 
Staff and students are expected to uphold respect, responsibility and excellence regardless of if they are in school or not. Was this respectful to those in our community who have fought COVID-19 or have lost family members to it? Is it responsible to blatantly ignore public health recommendations in such an overt way? Does this post show our community Free State's excellence, or make us look inconsiderate?
Not condemning this behavior is dangerous. By not reprimanding the staff and students involved in this post, USD 497 is telling families that the concern of the health of students within the district comes from a strictly administrative level and will not be regulated in the classroom. 
Free State can and must do better.  We are in the midst of a global pandemic. Now is the time to show that the safety of your classmates or students matters to you. A team picture is never more important than public health. A high school football season is never more important than safety and respect to our community. Apologize and correct your actions accordingly. 
Updated: 7:49 pm on August 19, 2020
View Comments (2)