Protest for hybrid learning held outside district offices
Lawrence Paraeducators hold 'teach-in' to protest move to hybrid learning
The Paraeducators Association of Lawrence, PAL-CWA, hosted a teach-in outside of the USD 497 District Office on Monday, Oct. 5, as a form of protest against the Board of Education's recent decision to move to a hybrid-learning model. 
The protestors, mostly paraeducators and teachers from within the district, took part in the teach-in. Educators brought laptops and other teaching supplies and held classes on the steps of the district offices.
Many educators cited health concerns as their reason for attending, and paraeducators emphasized their inability to cover the medical costs associated with contracting COVID-19.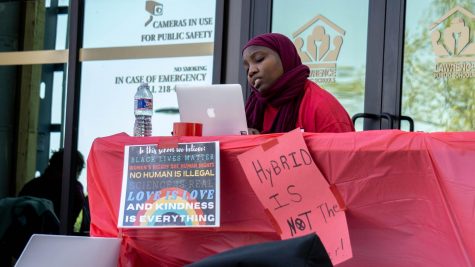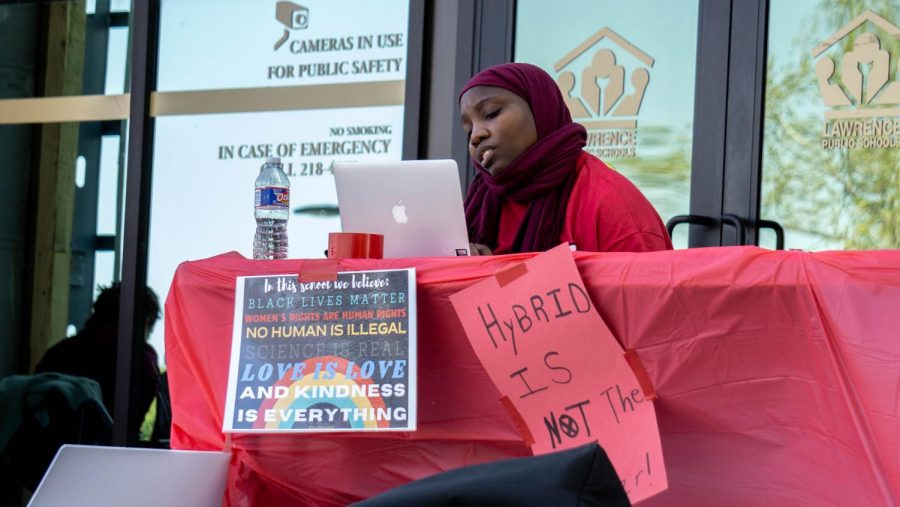 "I don't want to hear stories that my colleagues or the students that I care about are, you know, being diagnosed with [coronavirus]," an educator who is on long-term leave said. 
Protestors also expressed concerns about the hybrid plan's specifics.
"We really feel strongly as parents, teachers and other district staff that we actually need a real plan for hybrid or for any in-person learning and that the district administration really has not provided [that]," PAL-CWA Chair Hannah Allison said.
Carl Burris, a former Free State student who now teaches as a paraeducator in the community, discussed the dangers a hybrid learning model poses to him as an immunocompromised individual.
"I am a Type 1 diabetic, and therefore, I am incredibly worried about a true second wave of COVID," Burris said. "Among the individuals I work with, we've already had three people have to quarantine since the beginning of this semester, … and that scares me."
Members of PAL-CWA are requesting the district not allow all students into school buildings for the rest of the semester. Instead, they want to focus on serving marginalized students and students with special needs before asking other students to return. 
Many who were present expressed frustration at the lack of input educators were able to give the district task force. 
"The goals are to form an honest, transparent collaboration with the district to come up with a safe and workable design for how we're going to go forward," the educator on leave said.
In a statement to The Free Press, USD 497 Superintendent Anthony Lewis acknowledged PAL-CWA's concerns but argued that a hybrid learning model is safe and effective.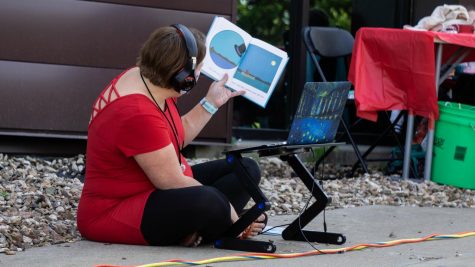 "I respect the rights of the staff to protest and understand they have concerns about safety," Lewis stated. "I am also hearing from teachers, staff, and parents excited for their students to return to school… Douglas County has moved from the green to the yellow phase of the guidance, which [still] supports a hybrid model of instruction."
PAL-CWA is encouraging other staff members, parents and students to contact the school board with their concerns about in-person learning. The district has not announced final hybrid learning schedules.
"Paraprofessionals [and] our teachers are here to make sure that the best choices, the safest choices, are made," Free State teacher Michelle Salmans said. "We just want the safest plan."
Leave a Comment