Varsity basketball falls in heartbreaking State title game
'We wanted to make it a four quarter game, and that's what we did'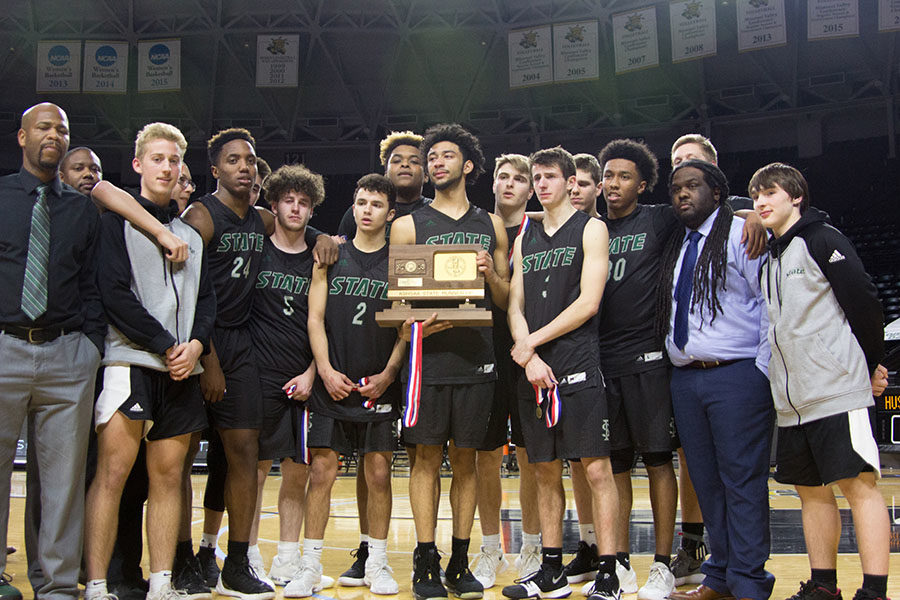 Jax Egan, Reporter
March 12, 2018
In a rowdy and boisterous arena for the final basketball game of some of their careers, the Firebirds kept fighting until the very end. Free State posed a comeback but eventually fell to the Blue Valley Northwest Huskies in the Class 6A state title game, 51-40.
Having trouble against a stifling defense, the Firebirds got off to a rough start, falling behind 13-5 at the end of the first quarter. Senior and usual starting center Jalan Robinson was battling an ankle injury he suffered in the semifinals game. Robinson checked in part way through the second quarter. Although Robinson was clearly not playing at full strength, he provided the size that the Firebirds needed to match up against the Huskies tall and intimidating front
court.
"He had some big plays for us down the stretch and I'm glad he played," senior Garrett Luinstra said of Robinson. "He did a hell of a job with what he could do."
The Firebirds had a much better second quarter on both ends of the court, as both teams scored nine points in the quarter. Luinstra took control of the offense, hitting on a collection of floaters, layups and mid-range jumpers. Luinstra had 16 points on the night.
"We just looked for [Luinstra]," junior Noah Butler said. "He's the leader. We love him and he just balls and gives it all he's got."
With Robinson on the court at the start of the second half, the Firebirds continued to try to chip away at the Huskies lead, which stayed around 10 points for most of the third quarter.
Free State finally got their big break with time winding down in the fourth quarter when senior Bansi King hit a three pointer to cut the deficit to just four. Two possessions later, senior Reece Downing drew a charge to give the Firebirds an opportunity to take the lead.
"It felt like everybody was clicking, everybody was playing together," Luinstra said.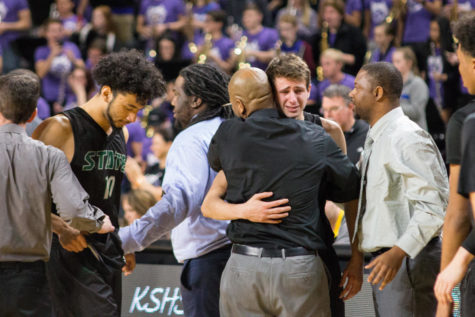 Rylee Roberts
Free State took a long possession that included a timeout midway through. The Huskies recovered a loose ball and were able to make it to the free throw line and close the game out. The Huskies won 51-40 and claimed their second consecutive state title.
There were many tearful faces as the players and coaches posed with their second place trophy. For many of the players, this was the final basketball game of their careers.
"I just love my team. I love the transfers, the coaching staff, and all the work we put in together," Luinstra said.
A senior class of nine took off their jerseys for the final time, and many underclassmen reflected on the leadership their seniors brought to the team all season.
"Always stay positive and always be prepared," Butler said. "You never know what could happen."