REVIEW: Taylor's Donut
Journalism staff reviews Taylor's Donuts.
Who doesn't love a fresh donut in the morning? Here is a review conducted by FSJournalism staffers of the newest donut shop in Lawrence.
Taylor's Donuts at 1827 Louisiana Street is located across the street from Lawrence High School. Although only softly open on Thursday through Saturday they have already grown an Instagram following of nearly 3,000 people.
When I went in to pick up donuts I asked the merchant to give me their top six donuts. She told me I definitely needed a Local Apple Fritter, Passion Fruit Cream Filled and a Bavarian Cream Filled. She also added Dark Chocolate S'mores, Maple + White Chocolate twist, and Cinnamon Sugar Yeasted donuts to the box. 
The restaurant, located in what used to be an old laundromat, has been completely transformed with glass donut cases and bright yellow tables. There is also a coffee bar in the back for all of your caffeinating needs.
When I returned to Free State I sat down with a crew of 7 journalism nerds [Jerds] to taste test each flavor.
First, we tried the Maple + White Chocolate twist. We had really high expectations for this donut so when it was dry our expectations fell short. Overall, we rated this donut a 7/10.
Next, we tested the Cinnamon Sugar Yeasted donut. This was a turn in the right direction. The donut was the perfect level of sweetness, fluffy texture, and moisture in the donut. We gave this one an 8.5/10.
After that we decided it was time for the most random of the donuts, the Passion Fruit Cream Filled donut. Once we cut into this one we were immediately scared to try it. We realized none of us like passion fruit… but we thought we should give it a try since it was highly recommended. Ultimately we didn't really love the donut but we thought the creativity was worth some points. We rated this donut a 2/10.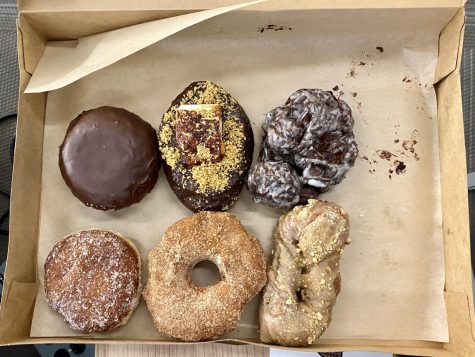 Next up was the Bavarian Cream Filled Donut. This one was truly so delicious. The cream was not too sweet and the chocolate coating had the right amount of bitterness. Overall we gave this donut a 9/10, and we definitely recommend trying it out.
Then we tried the Local Apple Fritter donut. This donut was very crunchy on the outside, which was good, but we thought it lacked a strong apple flavor. We gave this donut a 6/10 rating
Finally, we tested the Dark Chocolate S'mores donut. We thought that the actual donut texture was more like a marshmallow than a donut texture. It had a good flavor, but the texture was off. We rated this donut a 4/10.
Overall Taylor's Donut is a great new addition to Lawrence and I will definitely be going back to try more flavors soon.