Reid Williams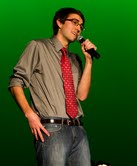 Popularity can be gained overnight in the wild ride of high school: the game winning shot in a basketball game, being elected as Student Council president, or being that one guy that always has a joke up his sleeve. But for Reid Williams, his rise to popularity was quick and well-deserved.
Encore is arguably the biggest student production of the year and Williams, a focal point of Encore, put on quite a show. He was featured in many group songs and put on a stellar performance in his solo covering Michael Buble's "I Just Haven't Met You Yet". His success in Encore has definitely changed things for him.
"More people know who I am now", Williams said. "People are like 'hey' and I'm like 'okay, I guess we're friends now?'"
Popularity comes and goes in highschool but for Williams it's more than newfound fame. Singing truly plays a large role in his life.
"[Singing is] definitely a way to express myself. I do it just to have fun", Williams said. He may not be pursuing singing as a career but Williams said, "I definitely plan on singing the rest of my life."