Symbolized by a purple ribbon, October is Domestic Violence Awareness Month which brings attention to abusive relationships and victims. According to the Department of Justice Domestic violence is harmful behavior in a relationship to maintain or gain power over the victim. It doesn't look just one way: physical, sexual, emotional or psychological abuse by anyone is considered domestic violence. 
According to the CDC, about 27 million people report experiencing forms of relationship violence before they turn 18, making it likely that many students have been victims of domestic violence. Social worker Meg Lyles has been a part of the mental health team for a decade; over that time she has dealt with several domestic abuse cases, so Lyles believes domestic abuse education for teenagers is vital.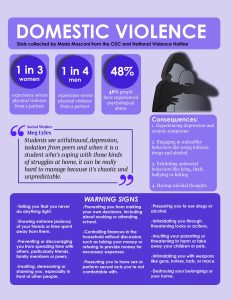 "It's important because high schoolers are starting to be in relationships of their own for the first time," Lyles said. "It's really important to have an idea of what things they should look out for."
To educate students, the organization, Be More Like Claire, gave a talk on domestic violence. Be More Like Claire was founded by Shannon VanLandingham in honor of her daughter, Claire, who was murdered by her abusive ex-boyfriend. Be More like Claire's mission is to teach what healthy looks like in the hopes of preventing violent relationships.
"It all can be prevented," VanLandingham said. "It's dangerous when it's a pattern and it is hurting someone else."
From the outside, a relationship may seem obviously abusive, but to the person being abused, the warning signs can be easy to miss. An anonymous student recalls the manipulation their abuser used whenever toxic behaviors were discussed. 
"You feel like you deserve it," they said. "Then when you talk to them about it, they spin it on you and make it seem like you're the bad person."
"I don't think I'm as social or happy as I used to be," an anonymous student said. " I have really bad anxiety. And the way I go about all relationships with people is kind of different than how other people would."
This type of manipulation leads to many victims accepting the abuse instead of reporting it, even when it is reported there is little done about emotional abuse alone. Because of this, under 24% of domestic abuse is reported to the police according to the National Center for Domestic Abuse, and abusers often get away with it until it's too late, like it was for Claire. 
"Now I know that he was using all kinds of abuse against her," VanLandingham said.  "None of it was physical, but the non physical kinds of abuse are just as lethal and just as dangerous."