After months of preparation and work, the theater department put on "Bright Star." For director Bryce Jones, being able to get as many people involved was one of the number one goals.
"The biggest area of focus was just getting many people involved," Jones said. "I want the musical to be a celebration of the entire performing arts [department], meaning, have it be a showcase of our singers, our dancers, our actors and our musicians as well."
One of the ways Jones worked to incorporate more people was using a live orchestra, called a pit. Despite having used them in the past, this is the first year that it had been a predominantly student pit, with 11 out of the 14 members being students. For senior Becca Craft, having the pit orchestra instead of tracks has brought a lot more life to the show.
"There's a lot more emotion in the music because it's not just generated, it's being played live," Craft said. "We have more creative freedom with the choices [we] want to make."
Member of the pit orchestra, junior Aspyn Roundy, said she has appreciated the experience she has gained from playing in the pit.
"It's something I've always wanted to do," Roundy said. "It's fun to play in a different kind of ensemble setting with different music than I would normally play."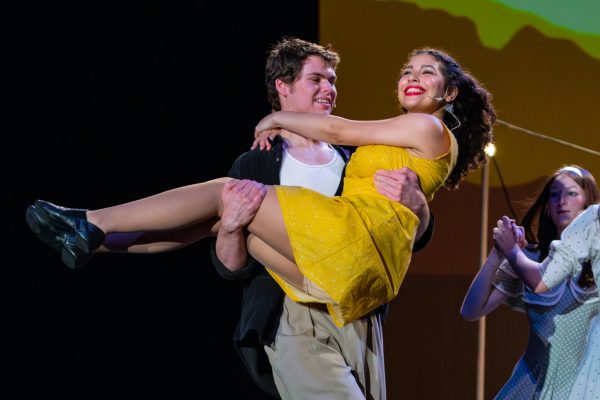 During the musical, the pit will be onstage with the actors. Craft, who plays Mama Murphy and is Lead Hair and Makeup Designer, has been excited to see how involved the pit gets to be throughout the show.
"It's been really cool getting to have more students here," Craft said. "The pit gets to be on the stage and in costume [as] part of the show."
After over two months of rehearsal, senior Stage Manager Rowan Banker has enjoyed getting to see everything come together at the end.
"It's a very powerful musical," Banker said. "The actors and students we have involved in the show are so talented that it brings the show together and it highlights all the great elements."
Whether in a stagecraft class, backstage or on stage, the goal was to get as many people involved as possible. Jones said he has been working to create a better and more diverse environment for the theater department.
"I'm most proud of the fact that we largely did this on our own," Jones said. "I always want the students' fingerprints to be on everything, and they are."