Across America, high school football brings together players, fans and communities. Home games become especially important, as student sections rally in support of their teams. Most often, the students coordinate "themes" beforehand. Sometimes these themes are lighthearted, and could include construction, western or tropical dress; however, some of the more important themes can have meaning woven into them.
"Pink out" is a common theme in October to align with breast cancer awareness month. For a lot of people, it is their personal experience with cancer that really leads to a deeper understanding of its impact. Senior Lawson Garcia spoke about how she grew up around cancer, and how it equipped her with knowledge down the road.
"My grandma had breast cancer before I was born. By the time I came around, she had already had a mastectomy. Obviously cancer is a very sad topic, but my grandma was very strong with it. It taught me to realize that, yes, cancer is scary, but you're gonna get through it, you just have to keep going," Garcia said.
Junior Lola McCollum, whose mother and grandma have been affected by breast cancer, expressed her gratitude for the pink out game.
"It's really cool that everyone is devoted to the [cause], and how we all represent and support breast cancer. It definitely means not only a lot to me, but to everyone there as well, because we all come together during that moment. We make shirts for the game, and a lot of people buy them," McCollum said.
Laura Sengchan, a Free State mom and teacher at Woodlawn Elementary, is a cancer survivor with an incredible story. With a history of breast cancer in her family, Sengchan began having mammograms done at age 35, and would routinely perform self exams, which proved to be life saving.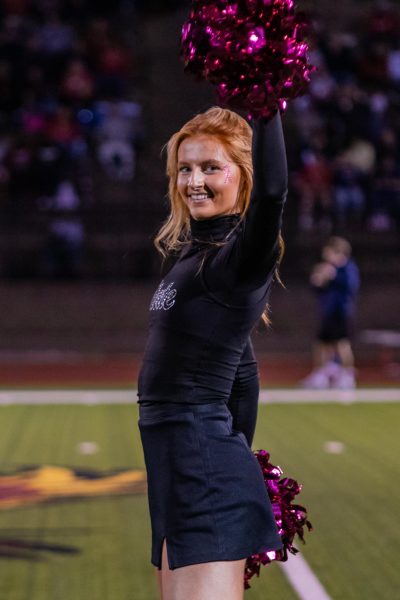 "I was diagnosed in May of 2018. I went through chemotherapy, radiation and had six surgeries. When I was first diagnosed, I was afraid. My mom had passed away from this disease and I had three children, ages six, nine and 11. My diagnosis and treatment are both reminders to make the time here memorable, Senghcan said.
When asked about the pink out game, Sengchan expressed her appreciation and said that the game effectively brings awareness to breast cancer. Additionally, Sengchan said that it is the helpful community that makes the healing process so special.
"The disease affected me physically, but the biggest effect on my life was the realization of how many amazing and loving people there are in this world. Our families, friends, school families, work families and sports families all showed up big. Their kindness made a huge difference," Sengchan said.
Sports around the world are excellent platforms that can be used to demonstrate how life and love are bigger than the game. They ascend any single player, team or box score. The pink out game is a great example that some things extend beyond the endzones of a football field.
"The first time I attended [the pink out game] and they asked survivors to stand, it brought tears to my eyes. Cancer is scary and tiring, for the survivor and for their family. It's helpful and uplifting to celebrate the victories and remind others that research, self-care and compassion are all needed," Sengchan said.